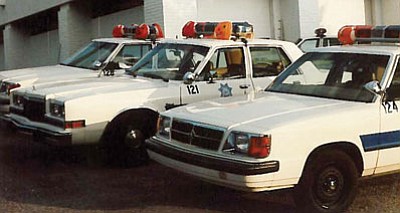 Originally Published: September 14, 2015 5:57 a.m.
KINGMAN - Autumn is right around the corner and that means the 42nd Annual Pumpkin Patrol is under way in Kingman.
The Kingman Police Explorers sponsor this year's patrol and members seek donations of individually wrapped candies or cash donations to purchase candy that officers in special vehicles will hand out on Halloween.
"The event would not be possible if it were not for the continued support of the community," said KPD spokeswoman Jennifer Sochocki. People who make cash donations will be provided a receipt, as it is tax deductible.
Explorers, officers and other volunteers will patrol Kingman neighborhoods with pumpkins attached to their overhead lights, with a handful of candy for trick-or-treaters, said Sochocki. The patrols provide an additional police presence on Halloween night.
Donations, cash or candy or both, will be accepted until Oct. 23 and can be dropped off at the department, 2730 E. Andy Devine Avenue. Volunteers will bag up the goodies on Oct. 29.
For more information, or to volunteer, contact Sochocki at (928) 753-2191.