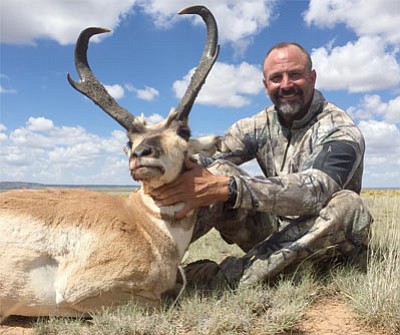 Originally Published: September 15, 2015 6 a.m.
The rifle and muzzleloader antelope hunts in most of the game management units in northern Arizona are over, and from reports it seems that the wet spring and summer really produced some nice horn growth that resulted in some big bucks being harvested.
Several hunts had some local assistance on them, and they turned out great.
For Lake Havasu resident Michael Hulsey, who drew one of the 100 general rifle tags in Unit 10, it was the hunt of a lifetime.
Hulsey was hunting with local big game guide Cody Jalbert, along with Socky Kogianes. On Day 2 of the hunt, Hulsey took a huge buck that was green-scored at 85 inches.
That exceeds the minimum that is needed to be entered into the prestigious Boone and Crockett record book.
Hulsey, Jalbert and Kogianes were hunting in the south end of the huge unit on the Boquillas Ranch. The buck was with a large number of does, and the trio made a long and arduous stalk in almost wide-open country.
Hulsey took the buck at 189 yards with one shot from his Dakota Arms rifle in 300 Winchester Magnum.
Local taxidermist Henry Aguilar will be doing the mount on the trophy.
Another local sportsman, Ryan Chan, came out and helped his friend Marc Schwartzkopf, who hails from the Phoenix area, on his muzzleloader antelope hunt in game management unit 18A. Schwartzkopf had a reported 23 bonus points in drawing one of the five tags that were available.
Schwartzkopf did a lot of scouting in search a huge buck that was reportedly in the unit, but when the hunt started, he couldn't find him.
Chan and local guide Jalbert offered to help.
Chan said they were hunting in the Truxton area when he spotted a nice buck, which was with another buck and a single doe.
They watched the animals for a long time and waited for them to bed down.
Schwartzkopf was able to get to 113 yards from the bedded buck and made a perfect shot, using a Connecticut Valley Arms Wolf in .50 caliber. Schwarzkopf was using Barnes 295-grain bullets behind 100 grains of Pyrodex powder in pellet form.
Schwartzkopf is going to have a European mount done on the buck.
It is believed that the buck will score enough to be entered in the Long-hunter Society record book, though Schwartzkopf said he didn't think he would enter it.
"I really don't care about record books," Schwartzkopf said. "I had a great hunt and took a buck that I really liked. I want to thank all my friends who helped me."