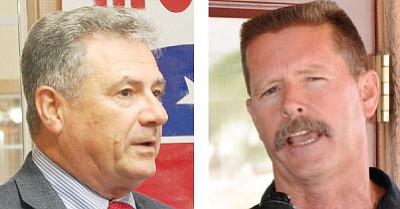 Originally Published: September 16, 2015 6 a.m.
KINGMAN - Ron Gould has two main goals to meet if voters return him to the state Senate after a two-term hiatus. Those goals are the same two that led him to win four consecutive terms in the statehouse from 2004 through 2012.
The first is to force the Legislature to do something meaningful about immigrants who enter the U.S. illegally and the second is to convince his fellow lawmakers to quit wasting money.
"They continue to spend more money than they have and they haven't done anything on illegal immigration since I was in the Legislature," said Gould, a Lake Havasu City Republican, in an interview Monday.
Gould served four terms in the state Senate before term limits forced him out. He then ran an unsuccessful campaign for the U.S. House of Representatives in 2012, losing to Rep. Paul Gosar in the conservative 4th District. State law allows candidates who have been term-limited to reenter politics after sitting out a full term.
Dr. Kelli Ward, R-Lake Havasu City, won election to Gould's old seat in 2012 and ran unopposed for a second term in 2014 before deciding to challenge Republican U.S. Sen. John McCain in 2016. Rep. Sonny Borelli, another Lake Havasu City Republican, has also filed to fill Ward's Senate seat, which she is expected to vacate if her campaign to unseat McCain proves viable in the coming months.
"The [4th] District is probably one of the most conservative in the state," said Gould. "We need proven conservatives. I actually ran on illegal immigration in 2004."
Gould was a key supporter of Proposition 200 that year. The prop was a citizen initiative pushed by a group called Protect Arizona Now, which required voters to prove citizenship and show identification before they voted in an election. It passed with 56 percent of the vote. Gould collected 3,000 signatures from citizens to get it on the ballot. The Supreme Court overturned the requirement that citizenship be proved, as it is in conflict with the National Voter Registration Act. The requirement that identification be provided was upheld.
Gould also pushed to ban immigrants here illegally from taking adult education classes and paying in-state tuition at colleges in what became known as Proposition 300.
"They're sitting on their hands," said Gould. "We used to specialize in having the federals sue us."
Gould adamantly refuted a statement Rep. Borelli made to the Miner last week, when he said Gould might have received a "good report card" from conservative groups, but he never did anything for the 4th District.
Gould said he played a key role in bringing the WAVE/JTED educational program to Mohave and LaPaz counties. The Western Arizona Vocational Education District works with the local business community and school districts to provide real-world education in career and technical fields.
"The reason kids go through JTED is because I funded it. I made sure we got it funded. Me and [Russell] Pearce," he said.
Pearce, notably, was the primary sponsor of Senate Bill 1070, the controversial anti-immigration bill passed in 2010 that would have allowed police to ask people they suspected of being in the country illegally to prove they had a right to be here.
Gould was another key proponent of the law, which passed and was set to go into effect until it was challenged in court. The Supreme Court eventually upheld immigration status checks during law enforcement stops, but struck down three more provisions as violations of the Constitution's Supremacy Clause. Pearce in 2011 became the only lawmaker in Arizona history to be recalled by voters, ostensibly for his "overt disdain" for the U.S. Constitution, according to Ballotpedia.
Gould said he also obtained state funding to help former Sheriff Tom Sheahan patrol the Colorado River.
"That wasn't pork," he said. "That money came from boat licensing and boat fuel tax revenue. I'll always stand up for my district."
While immigration and fiscal conservatism are his two main priorities, Gould would also seek to stop overreaching bureaucracies. He specifically cited the state cosmetology board.
"They want to regulate everything," he said. He said the board wants to have oversight over a method of exfoliation involving fish that nibble away dead skin, and another involving a method to groom eyebrows.
Gould would also urge the state to "push back" against President Barack Obama's "war on coal." He said Tucson Power and Electric recently closed down a coal-fired power plant, something that could lead to a price increase.
"If electricity is expensive, manufacturers won't come here. The state needs to push back. We already have regulation through the Arizona Department of Environmental Quality," he said. "We want to make Arizona an attractive state to do business in."
Gould could be one of a number of guest speakers at Monday's meeting of the Conservative Republican Club of Kingman, but then again, he might not.
"I'm on call for jury duty on Monday," he said. "I'll call in, and if they don't need me, I'll be at the meeting."
More like this story