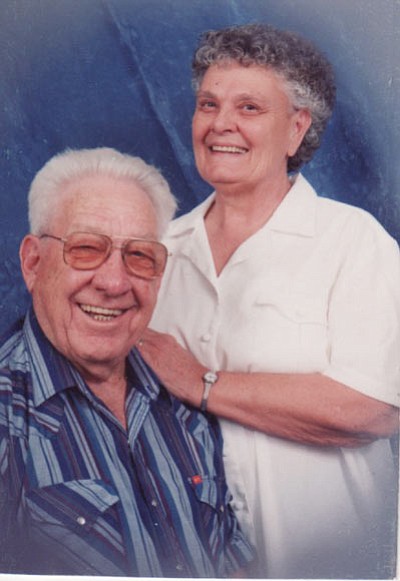 Originally Published: September 16, 2015 6 a.m.
Ann Gilcrease passed away peacefully in her home on Sept. 7, 2015. She is survived by her sons, Rick (Becky) Collins of Kingman and Randy Collins of St. George, Utah; six grandchildren, Jeremy (Robyn) Collins of St. George, Utah, Michael (Anna) Collins of Chloride, Stacey (Zeb) Parenti, Amy (Jason) Elsbury of Kingman, Kaysha (Devin) Holmes of St. George, Utah, and Trevor Collins of St. George, Utah; five great-grandchildren; as well as two sisters, Marlene Gilcrease of Chloride and Marilyn Brandehoff of St. John, Ohio. She was preceded in death by her loving husband, Daniel Gilcrease, and parents Leland and Lucille Smith.
Ann was born in Wapakoneta, Ohio, on Dec. 17, 1931. She moved to Globe, Ariz., in 1947 and then to Phoenix in 1954. In 1964, Ann moved to the Chloride area (Silver Sage) where she raised her boys and later enjoyed her grandchildren and great-grandchildren. Ann worked as a cashier in the grocery store business for 25 years, including A.J. Bayless and Ranch Market. She loved watching the Arizona Diamondbacks, Phoenix Suns and NASCAR. She also enjoyed playing cards with family and friends along with family meals with lots of noise and laughter.
Ann married the love of her life, Daniel Gilcrease, on Dec. 20, 1993. Together, they traveled to many places around the country and had many adventures. They were married 16 wonderful years when Dan went to be with the Lord in 2009. Ann missed him every day since then.
Funeral arrangements are being handled by Sutton Memorial Funeral Home. A private family visitation will be held on Friday, Sept. 18, with a graveside service held at 1 p.m. Saturday, Sept. 19, at the Chloride Cemetery.