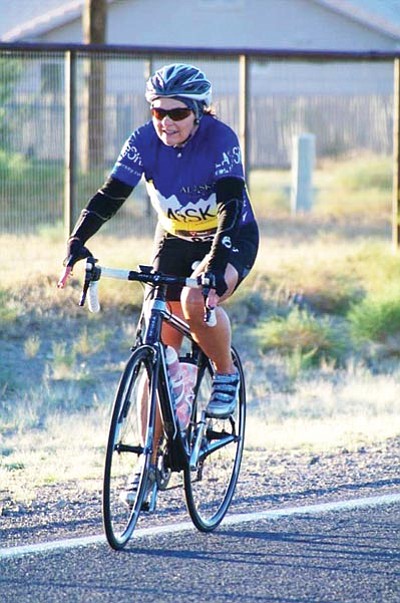 Originally Published: September 16, 2015 6:02 a.m.
KINGMAN - Triathletes in the Kingman area get the opportunity this weekend to compete in a locally run triathlon and help a local cancer patient and her family at the same time.
This is Tour of Kingman's third year, and it will be held Saturday and Sunday. The triathlon is a time-trial triathlon, where participants can pick and choose different events to take part in. Events include a 5K run/walk, 10K run, 200-yard swim, 500-yard swim, 1,000-yard swim, 12-mile bike ride, and 28-mile bike ride. Participants can also compete in a sprint Olympic triathlon over both days.
The run starts at 6 a.m. Saturday morning, leaving from the Grandview Pool. The swim event begins at 5 p.m. in the Centennial Pool that evening, and the triathlon will conclude Sunday morning at 5 a.m. with a bike ride leaving from the Powerhouse.
All the proceeds this year will be donated to Kim Brisco, a local breast cancer patient scheduled to go through a double mastectomy this Thursday.
"The reason we started this was for cancer fighters in Kingman," said Anna Shuffler, one of the organizers for the event. Shuffler owns the Shift Training Center in downtown Kingman, but operates the event as a non-profit organization.
Last year's proceeds totaled just over $1,500, with the bike ride being the most popular event. Fifty riders participated, as well as 35 runners and 25 swimmers.
Athletes looking to participate can sign up on Active.com or pick up a registration form at the Shift Training Center, Cerbat Chiropractic, Ignite Marketing, Physiotherapy, or the Powerhouse. Fees range from $20 for just the swimming portion to $60 for the entire triathlon, and all pre-registered participants are guaranteed a race T-shirt if forms are turned in by 7 p.m. Thursday. Packet pickup will be from 5-8 p.m. Friday at Shift Training Center, 208 N. Fifth St.
People can also sign up the day of the event.
The group is also looking for volunteers to help with the event.
Volunteers can contact Shuffler at (928) 279-2386 for more information. The Tour of Kingman can also be found on Facebook.