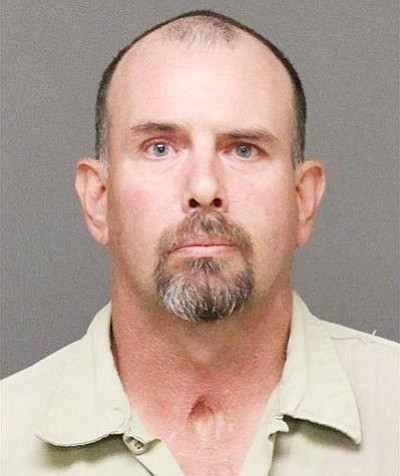 Originally Published: September 17, 2015 6 a.m.
KINGMAN - A man who tried to make a citizen's arrest of his girlfriend and a process server who handed him court documents on March 31 was sentenced to two and a half years on probation Tuesday.
Charles William Tefft, 43, has a history of emotional, mental and depression issues, according to defense attorney Ron Gilleo, who told Judge Lee Jantzen that Tefft suffered from "built-up anxiety" on the day a Mohave County process server delivered court papers to his home in the 3100 block of Northfield Avenue.
The process server called Tefft ahead of time and told him he was coming over, and Tefft reportedly agreed, but when the man arrived Tefft yelled at the man and attempted to place him in handcuffs. Tefft's girlfriend, according to Mohave County Sheriff's deputies, ran outside and tried to pull Tefft away from the man when he threw her to the ground and cuffed her to the man's seatbelt.
He was indicted on two counts of kidnapping, a class 2 felony punishable by a term in prison ranging from seven to 21 years, unless the victim is a juvenile, which carries much harsher penalties.
He was also indicted on two counts of aggravated assault, unlawful imprisonment and a misdemeanor charge of assault.
Prosecutors dropped all charges but one felony count of aggravated assault and the misdemeanor assault, to which Tefft pleaded guilty in an agreement that called for no jail time.
Gilleo noted Tefft, who has a history of misdemeanor disorderly conduct arrests, is in a special management court for a disorderly conduct arrest earlier this year. Prosecution has been deferred while he undergoes treatment at Mohave Mental Health.
Gilleo said the kidnapping charges were "ridiculous" and he noted nobody was injured.
"He's a good guy with a good heart," said Gilleo. "He makes dangerous statements about what he wants to do to himself."
Despite the attractive deal, Tefft told Jantzen the deputy who arrested him "took everybody else's side." He also said he thought the process server was going for a gun when he attacked him. "I feel like a lot of this is unjust," he said.
"You entered a plea," responded Jantzen. "I have concerns Mr. Tefft doesn't think he's done anything wrong and I wonder how you will do on probation."
Jantzen ordered Tefft to pay $525 for attorney fees and ordered him to immediately report to the Mohave County Probation Department.
He cannot drink alcohol while on probation.