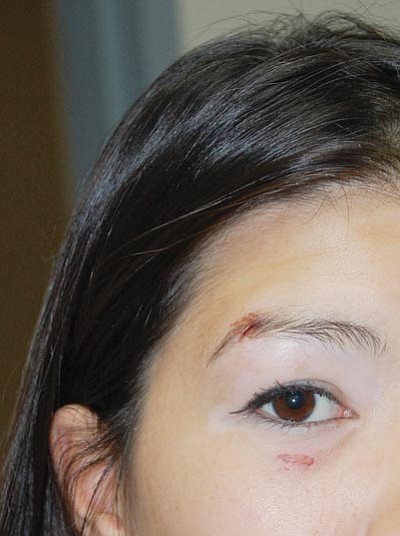 Originally Published: September 17, 2015 6 a.m.
KINGMAN - Gabrielle Bauer's spur-of-the-moment decision to check her grandmother's mailbox Sunday night led to a frightening and painful encounter with hate.
The 22-year-old Mohave Community College student returned to the home in which she and Brenda Bauer live north of Kingman after a trip to the store.
It was about 10:30 p.m. when Bauer made the decision to check the mail, knowing her grandmother didn't always stop at the cluster of mailboxes at the end of the dirt road they live on north of Kingman.
Bauer didn't pay any attention to the pickup truck that was parked nearby - until one of at least three men got out and approached her.
The man, seven or eight inches taller than Bauer's 5-foot-2 frame, pulled her arm hard enough to throw her to the ground, placed his boot on her face and said, "You don't belong here. You need to go back to Mexico."
She has a cut below her right eye and a deeper gouge above it, in her brow, and she remains frightened.
At first, Bauer didn't want to say anything to her grandmother because she didn't want to scare her, but the story came out as Brenda cleaned Gabrielle's wounds.
Mohave County deputies responded and the incident is being investigated as a felony hate crime - but there is precious little to go on.
She described her assailant as having dark blond hair and an average build. The truck was dark in color.
"It could have been black. I don't know," she said. "It was dark and I didn't get a good look at anyone. I think there were three of them."
The men peeled out and sped away once they got on Stockton Hill Road. They were headed toward Kingman.
Bauer, who is scheduled to receive her associate of arts degree in a few months in social and behavioral science, said there is one family in her rural neighborhood that has "glared" at her as she jogs down the dirt road, but she doesn't think she had ever seen the man who attacked her Sunday, his friends or the truck they were driving.
Nobody has a beef with her, she said.
"I have no enemies," she said. "I actually have very few friends because I really don't know that many people in town."
She is, by her own account, an introvert.
Bauer has lived in Kingman, and been an MCC student, since moving here from California about two and a half years ago. She has never experienced anything like what happened Sunday, and she remains frightened and feels vulnerable.
"I don't normally check the mail that late at night," she said. "I thought nothing of it, but now I know I will never do that again."
And while the trauma of her ordeal has yet to subside, Gabrielle knows things could have turned out so much worse.
"I'm really thankful it didn't go further than it did," she said.
Arizona does not classify "hate" as a crime, as it is an emotion. However, evidence of a hate crime can lead to what is known as an aggravating factor when a person convicted of a hate crime is sentenced.
In other words, a defendant could be sentenced to a longer-than-average prison term if prosecutors show he or she committed a crime out of malice toward a victim because of the victim's identity in a group or because of the defendant's perception of the victim's identity in a group - be it race, color, religion, national origin, sexual orientation, gender or disability.
Anyone with knowledge of the incident is asked to call the Mohave County Sheriff's office at (928) 753-0753 or Silent Witness at (929) 753-1234.