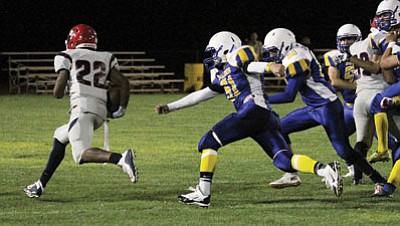 Originally Published: September 20, 2015 6 a.m.
KINGMAN - Expecting to win and actually winning can be miles apart.
So it was for the Kingman Bulldogs Friday at Parker, as the Broncs scored 20 unanswered points in the fourth quarter en route to a 34-6 win over the Bulldogs in the Division IV, Section III opener for both teams.
"That team was beatable," said KHS football coach Greg Tonjes. "After all the injuries, we didn't have the numbers. I don't want to use injuries as an excuse because we are not playing disciplined football at all."
Kingman (1-3, 0-1) lost running back Isiah Perez on the first drive of the game. Perez had rushed for 52 yards on eight carries, but he went down with a severe ankle injury with fears it may be broken.
Tonjes also said backup quarterback Alex Gillman suffered a severe spinal injury and was taken via ambulance to the hospital. Mason Wester may have a broken hand, Mario Barocio suffered a leg injury, and Marcus Whataname went down with a possible shoulder separation.
"Most of those were lost in the first or second quarter," Tonjes said. "A lot of these injuries are because our numbers are low. I'm just very frustrated because we don't have the depth we need."
Despite all those key players going down, the Bulldogs trailed Parker (2-2, 1-0) only 14-0 at the half. The third quarter was scoreless, and Kingman actually made it a game at 14-6 when Nate Sinclair rushed for a 1-yard touchdown with 11 minutes remaining.
It took Parker just nine seconds to make the score 20-8 on a 53-yard touchdown run.
"We did a great job in the first half keeping it close," the coach said. "We got it down to six, but the very next play we gave up a long touchdown."
Parker scored again five minutes later on an 82-yard run and wrapped up the scoring with less than two minutes remaining on a 3-yard plunge. The Broncs rushed for 367 yards.
"Our edges are allowing them to run all over us," Tonjes said. "We've given up more than a thousand yards of offense over the last eight quarters and 77 points."
A glaring number is that the Kingman quarterbacks, Sinclair and Gillman, combined to complete 5-of-23 passes for 53 yards and an interception.
"They are not throwing the ball to the open guys," the coach said. "We had four or five plays that should have been touchdowns."
Kingman doesn't have much time to heal. The Bulldogs face the D-IV defending state champions River Valley (3-1, 1-0) at home this upcoming Friday. The Dust Devils rolled over Lee Williams Friday, 51-0.
"We're not executing offensively, and we're not executing defensively," Tonjes said. "That is not how we practice, and it is not how we are coaching."