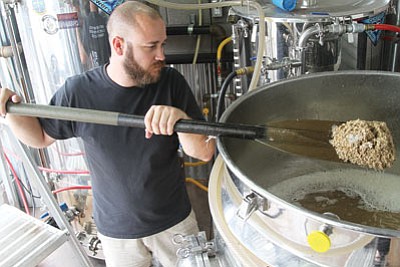 Originally Published: September 22, 2015 6 a.m.
KINGMAN - Brewers across Arizona toasted successful legislation that raised their production cap to 200,000 barrels of beer a year - the highest cap in the country - but it doesn't mean much to Tim Schritter, owner of Black Bridge Brewery in Kingman.
He's nowhere close to the previous limit of 40,000 barrels in his third year of business, producing about 190 barrels last year and on track for 320 barrels this year.
Nonetheless, the local businessman is impressed with the estimated economic output of nearly $4.3 billion by Arizona's beer industry in 2014, according to the National Beer Wholesalers Association.
That's about 1.5 percent of Arizona's gross state product.
The industry employs 38,627 people, including those working at the breweries, delivery drivers and bartenders, and generated more than $800 million in federal and state taxes.
"That's a lot of money for the state," said Schritter, who has seven employees at Black Bridge Brewery. "It's nice to see. Arizona beer is booming. We're making good stuff here in Arizona."
Under previous state law, Arizona breweries that produced more than 40,000 barrels a year became "in-state producers," which limited the number of tasting rooms, restaurants or retail stores outside of their production centers.
That put a crimp on business expansion for some of the state's larger brewers, such as Four Peaks Brewing Co. in Tempe, which has multiple pubs serving its craft beers.
With the passage of Senate Bill 1030, also known as Arizona's Beer Bill, breweries can now produce up to 200,000 barrels a year across all locations, while those that produce fewer than 40,000 barrels can have up to seven locations without having to sell through a distributor.
"The biggest thing for me is it allows me to bring in beers from other brewers," Schritter said. "On a small scale, it's been a benefit for us. It allows us to expand our tap list and have a more impressive tap list."
Black Bridge Brewery has two "guest" taps from MudSharks in Lake Havasu City, one from Barrio in Tucson and one from Upslope in Colorado.
"The law didn't affect distribution. That was the only part of the law I cared about," Schritter added. In addition to its downtown pub, Black Bridge Brewery sells its beers at five locations in Kingman: Airway Texaco; Garlic Clove; Rednecks BBQ; Cellar Door; and Kwik Stop.
Schritter invested more than $25,000 in new equipment at Black Bridge Brewery that increases his production from about 1.5 barrels a batch to 3.5 barrels, and he's brewed 53 batches so far this year.
Saving jobs
The Beer Bill was a victory for craft brewing in Arizona, saving jobs and paving the way for growth in the industry, said Rob Fullmer, executive director of the Arizona Craft Brewers Guild.
"SB 1030 ensures that our brewers have a business environment that is competitive with Colorado and California," he told the Daily Miner. "It provides all brewers with a clear and consistent path to grow and transition from a startup to a large producer."
The presence of a brewery often creates economic activity for surrounding businesses, Fullmer said. You'll see much more foot traffic in that area, he said.
For every dollar of beer sold in Arizona, the state and federal governments get nearly 36 cents in taxes, slightly below the national average of 40 cents, according to the National Beer Wholesalers' report.
"This law change shows that our state legislators understand that our breweries are economic drivers, and this, to us, was always about jobs and keeping dollars in the state," Fullmer said. "I feel that our businesses need this common sense, balanced approach to remain competitive, and it was rewarding that we achieved that. Our smaller breweries have a much clearer blueprint for growth, should they choose to do so. There is no artificial cap on the growth, and they can attract investment dollars that might have gone to California or Colorado."
Craft breweries are flourishing in Arizona, growing from about 20 five years ago to more than 60 today. The potential for long-term growth is what made the Beer Bill particularly attractive for Arizona's smaller breweries, such as Black Bridge.
"We're expecting to have more outside accounts, more wholesale accounts," Schritter said. "In December we're going to bottle beers from our two oak barrels, our first bottled beer, probably split in limited releases."
Fullmer said it's much easier now for smaller breweries to collaborate with larger ones and add to their potential revenue stream, which wasn't possible in the past because of restrictions.
"The ability for a small brewery to utilize other brewery beer as part of their growth plan will provide some relief as they scale their brew houses or consider adding a newer and larger location," he said.