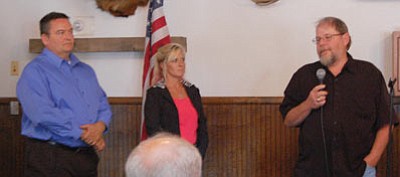 Originally Published: September 22, 2015 6 a.m.
KINGMAN - Three political novices who hope to win election to the Mohave County Board of Supervisors next year addressed members of the Conservative Republican Club of Kingman Monday afternoon.
Jeffrey Jolly
Jolly has filed to challenge District 1 Supervisor Gary Watson. Perhaps best known as the operator of Shots Ranch, a firearms instruction facility roughly 35 miles east of Kingman, Jolly said he might be too conservative for some members of the audience.
"Nothing hurts me more than seeing what's going on in our county and our country," he said.
He has a couple of pet peeves: taxes and spending. The Shots Ranch is about 1,300 acres, property he pays taxes on, yet he still must maintain about nine miles of road for his business and his neighbors, many of whom are on fixed incomes.
Originally from the Midwest, Jolly was critical of Watson for voting to keep people from bringing firearms into county buildings. He also has concerns about new county buildings that have been constructed in recent years, indicating they were unnecessary and expensive.
Krystal Gabrielson
Gabrielson has challenged District 4 Supervisor Jean Bishop. A resident of Golden Valley, Gabrielson and her husband own Westside Disposal and have built up the business since taking it over after moving to Arizona from Michigan several years ago.
"I want to run and I want to win," she said. "And I want to work for the people."
She is adamantly opposed to a recent property tax increase supervisors approved, saying the smarter move would have been to increase the sales tax.
"The property tax [increase] bothers me," she said. "They would have [captured] that money if they went with a sales tax."
Gabrielson said she, like Jolly, also owns a large property and doesn't want to pay more property tax. She also said the environmentally efficient county buildings are great, but more funding needs to go to the county's building department. She said it takes too long to get inspections done and permits issued.
Gabrielson also said the county needs to be more proactive attracting businesses to Mohave County. She said she just returned from a trip to Alaska, where they "welcome new businesses with open arms. I know we are understaffed, but we don't say, 'We want your businesses,'" which the county needs if it is going to continue to grow, she said.
Gabrielson also said she would advocate for more veterans programs in the county, suggesting the high number of vacant homes could be used to temporarily house homeless veterans.
Rick Armstrong
Armstrong manages Superior Tire in Golden Valley. He, too, has challenged District 4 Supervisor Jean Bishop.
A 15-year resident after a career in the Navy, Armstrong said he visited Mohave County and fell in love with it while on leave in 1995.
The father of eight said he would handle the supervisor's job as if he were managing a business, with an emphasis on consistently maintaining roads.
He said if elected he would consider himself the employee of taxpayers. Armstrong has concerns about county buildings that aren't filled at the same time the county is talking about building more. "What a waste," he said.
"If I'm elected, I guarantee I'll work for you and I'm not going to dig into your pocket every time I need something," he said. "Why do we keep putting people in office who do nothing but tax and spend?"
Armstrong said he was a "hardcore" Republican, to the right of Rush Limbaugh. "I have experience dealing with millions of dollars in the Navy, and my budget at work. I keep my costs low."