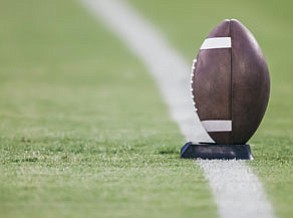 Originally Published: September 24, 2015 5:37 p.m.
KINGMAN - The schedule gets no easier for the Lee Williams High School Volunteers as they travel to Lake Havasu City for a 7 p.m. game today against the undefeated Knights.
Lee Williams has lost its first four games of the season by a combined score of 152-33, including a 51-0 whitewashing at River Valley High School last week.
Lake Havasu (4-0 overall, 1-0 section) averages 335 total yards and 35.8 points a game, and defeated Mohave, 45-7, last week.
The Volunteers will be tasked with defending another good running back in senior Jacob Kalogonis (5-foot-8, 170 pounds), who has rushed for 361 yards and seven touchdowns this year.
Knights quarterback Jack Warner (6-1, 175) has completed 41 of 68 passes for 561 yards and a touchdown. Wide receiver Jacob Harrold has eight catches for 148 yards and a TD.
Lee Williams coach Eugene Kramer said his team is preparing for the looks it will see from Lake Havasu, but more than anything, the Volunteers continue to work on knowing their own assignments.
"It's hard when you have new kids stepping into new spots and synchronizing with new kids," Kramer said. "It's tough."
The Volunteers are still missing key players with injuries, though quarterback and safety Landon Kramer (shoulder) and running back Jason Ruiz (ankle) are "day to day," the coach said. Linebacker Matt Shaw and defensive lineman Jerry Jones are both awaiting MRI examinations on their knees.
"The biggest thing, after what happened last week, is our group has to get better mentally and come out and perform with intensity and some need for success," Kramer said.
"We've got to start moving the ball and keeping the defense on the sidelines longer. We've got to sustain drives and finish drives in the red zone. That's something we've lacked all year."
The players are working hard, coming out to practice every day and "busting their tail," Kramer said, and he sees progress.
"We're one broken assignment from making a big run, a big play. It comes down to the entire team, all 11 men working together," he said.
The game at Lake Havasu will be streamed live on MohaveTVNews.com/livesports, with Allen Scott calling the action.
More like this story