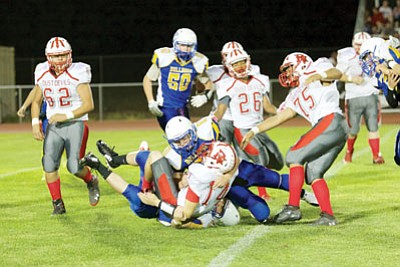 Originally Published: September 27, 2015 6 a.m.
KINGMAN - It took 19 seconds for it to sink in that David probably wasn't going to slay Goliath Friday at Kingman High School.
All doubt was erased by the end of the first quarter, when River Valley, the defending Division IV state champions, had 34 points on the way to a 59-0 win over the Bulldogs in a Section III contest.
Kingman (1-4, 0-2) took the opening kickoff and promptly went three-incomplete-passes-and-out. The Dust Devils' Jacob Lee blocked Chandler Baca's punt at approximately the 12-yard line, scooped up the ball at the two and moseyed into the end zone to start the scoring for River Valley (4-1, 2-0).
Fifty-five seconds later, Kingman quarterback Nate Sinclair was intercepted by David Larrabee who returned it 22 yards for River Valley's second score within the first 1:14.
River Valley led at the half, 46-0. Kingman did sack the Dust Devils' quarterback twice, and Garrett Stephens led the defense with 10 tackles.
"We didn't expect to be down 13-0 that early," said KHS football coach Greg Tonjes. "That was part of the problem because of how young we were tonight."
Kingman was without six starters, including leading rusher Isiah Perez.
The Bulldogs were held without a first down and finished with minus-26 yards in total offense.
"River Valley is state ranked for a reason," Tonjes said. "They are a great example of where we want to get to."
Focusing on the future is Kingman's goal now. The Bulldogs are looking at the second half of the season for a winning record and want to beat the two other Kingman schools.
"We're going to keep battling and fighting. I just want them to play with pride," the coach said. "If they can't get excited for this week in this city, then they're in the wrong business."
Kingman plays at Lee Williams (0-5, 0-2) at 7 p.m. this upcoming Friday.
Lee Williams was taken down by Lake Havasu (5-0, 2-0) two nights ago, 49-0.