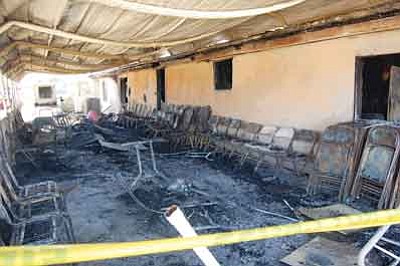 Originally Published: September 27, 2015 2:03 p.m.
DOLAN SPRINGS - Two suspicious fires set nearly simultaneously destroyed Mt. Tipton Community Church and caused heavy damage to Dolan Springs Baptist Church Saturday night.
The two churches on Pierce Ferry Road, right across from each other, burned in an incident fire officials determined to be suspicious.
Arson investigators with the Mohave County Sheriff's Office were called in to sift through the ashes at Dolan Springs Baptist Church - which remained standing, but with extensive damage Sunday morning. Investigators will also examine the utterly destroyed Mt. Tipton Community Church.
The fires were reported to Lake Mohave Ranchos Fire Department about five minutes after 7 p.m., according to Northern Arizona Consolidated Fire District Chief Patrick Moore.
The first arriving crew found the two churches burning in the 15000 block of Pierce Ferry Road. Mt. Tipton Community Church was burning heavily while a covered porch that runs the length of Dolan Springs Baptist Church and the entryway burned, causing extensive damage to the exterior and interior.
Undermanned firefighters split their resources to keep the Mt. Tipton fire contained to the site and mounted an aggressive attack at Dolan Springs Baptist Church. No injuries were reported and nobody was inside when the two fires erupted.
Moore said crews from Northern Arizona Consolidated and Golden Valley Fire responded to assist.
"The fires are suspicious in nature and the fire investigation continues at this time," said Moore. Anyone with information on either fire is asked to call the sheriff's office at (928) 753-0753 or Silent Witness at (928) 753-1234.