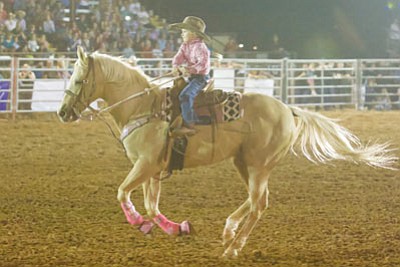 Originally Published: September 29, 2015 6:02 a.m.
KINGMAN - Even during a weekend crowded with many events, the 31st edition of the Andy Devine Days Rodeo was a popular and booming success.
Ray Cullison, president of the Kingsmen, was especially pleased at the turnout by the community Saturday night.
It was one of the first night rodeos in Kingman in well over a decade, and Cullison estimated that around 1,400 people turned out.
"The biggest challenge for us was underestimating the crowd for the Saturday night event. The sun was going down. It cooled off nicely," said Cullison.
That night admission was for standing room only, and the Kingsmen are looking at mixing up the seating arrangements next year to accommodate more people. Parking extended along the entirety of the fairgrounds.
Sunday's afternoon rodeo drew a similar crowd and had more riders in the competitions.
Most of the Professional Rodeo Cowboys Association events were dominated by out-of-town riders, but Kingman and Golden Valley riders had excellent showings in the Ranch Bronc Riding and the Junior Barrel Racing categories. In the field was Faith Campa from Golden Valley, who raced in the Junior Barrel Racing competition at the age of 5 years old.
For the pro competitors, a total payoff of $21,689 was up for grabs in seven events.