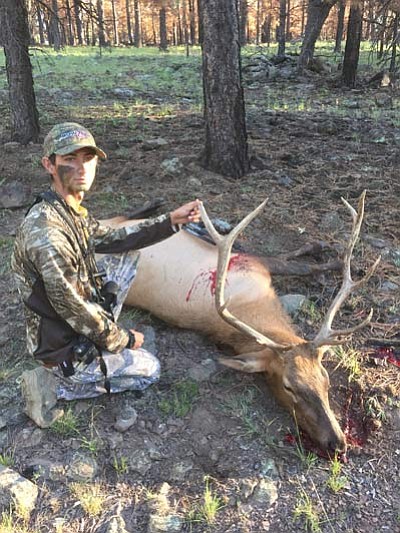 Originally Published: September 29, 2015 6 a.m.
The hunting tradition is strong in the Kingman community and it has been for as long as I've been here (1972). Fathers take their kids out and pass along their knowledge to their offspring. Many also have their wives go on hunts to share the tradition. Grandparents do the same thing and those youngsters who are fortunate enough to have them around can and do learn a lot.
Tanner Reagan comes from a long line of Kingman sportsmen. At 16 years old, he has spent a lot of time in the field archery hunting. Tanner's main mentor has been his grandfather, Kingman resident Rod Ward.
Tanner has had quite a bit of luck in drawing archery bull elk tags. As a matter of fact, he has drawn three archery tags in Unit 5B South, starting in 2012, again in 2014 and then this year.
Tanner hunted with his grandpa on his first two elk hunts and he passed on some smaller bulls and brought those tags home unfilled. But filling the tag isn't really what hunting is all about. It's really about spending time together and learning, knowing that someday it will be your turn to fill the tag, or carry dad or grandpa's bull or buck back to camp.
On one of the hunts, Rod got a great 10X7 that scored 336 on opening day. Tanner was there to help with the field dressing and packing.
This year, since he was the only one who drew a tag, the young hunter decided he was going to take any bull that he saw on his hunt.
His grandfather, as always, was going to be there to mentor the young hunter.
They went to set up camp a few days before the hunt opened, and they decided to hunt in the same area that they had been hunting for the past 12 years.
Friday morning dawned clear and cool when they slipped into the woods in the predawn darkness. Their calling produced a group of six cows and calves, but strangely, there was no bull with them.
They also didn't hear any buglers, which is also unusual, since the hunt was during the rut when the bulls should have been screaming.
It was about 10:30 when they spotted a cow and a calf that had a nice 6 X 6 bull trailing behind them.
They were able to call in the cow to almost point-blank range, but the bull cautiously stayed behind the pair.
At one point the bull was just 36 yards away, but he was behind brush that prevented the young archer from getting a shot. "He needed to take one more step and I would have got him!" Tanner said, smiling.
That afternoon things were fairly quiet and though they saw more elk, no bulls came into archery range.
On Day 2, the pair walked out from camp in the predawn darkness, hoping to see or hear some bulls. As they walked back to camp, they continued to make cow calls - but nothing answered.
Then young Tanner saw a cow. And behind her was a young 5 X 5 bull that was probably trailing her. Tanner decided to try to get close to the bull. Lovesick cow calls caused the young bull to head his way. But something went amiss and the bull ran up the hill but stopped when more cow calls were made.
Then the bull made a fatal mistake. He stopped at 40 yards and was broadside and perfectly bracketed between two trees.
"I put my 40 yard pin on the bull and let the arrow go," Reagan said.
The shot was true and the deadly broadhead-tipped arrow passed from his BowTech bow completely through the bull.
The bull turned to run, but got only 20 yards before he expired.
Then the work started.
The pair was more than a mile away from camp and in a non-motorized vehicle area.
But it didn't matter. Tanner had his first archery bull and he was an excited young man.
"I made five trips, and I carried that bull out," he said.
As I heard the story, I couldn't help but wonder who was more excited about the short and successful hunt.
Was it Tanner, who had taken his first bull elk with his bow? Or was it his grandfather, who had mentored the young man from an early age and had watched the young man grow into a successful bow hunter?
The bottom line was that the hunting tradition in this family and all the experiences associated with the sport of hunting had gone full circle.
And that's how it supposed to be.
The proud grandfather had watched his grandson put it all together and there will be plenty of good-eating elk meat in the freezer this year as a result of their combined efforts.
Tanner said he wanted to thank Steward Bowman from Kingman Archery, who helped him get his bow ready for this elk hunt.