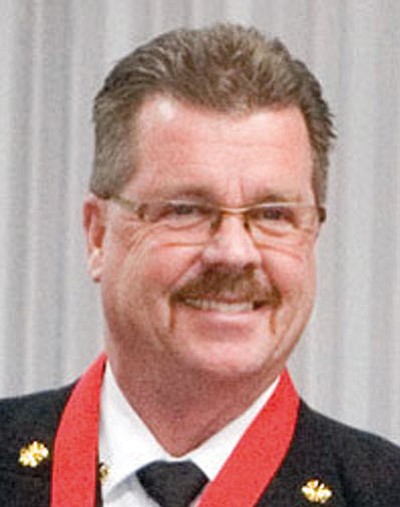 Originally Published: September 30, 2015 6 a.m.
GOLDEN VALLEY - Tonight's special board meeting at the Golden Valley Fire District will have only one key agenda item: Whether or not to accept the resignation of Fire Chief Tom O'Donohue.
O'Donohue turned in his letter of resignation almost two weeks ago to the GVFD governing board. He plans to take a fire chief position at the Wittmann Fire District at the end of October.
O'Donohue's contract requires 60 days of advance notice to the board. Because he is resigning before those 60 days are up, and because that clause of his contract allows the board to "negotiate an early departure agreement with the chief," the board will discuss how to proceed through the month of October.
All signs point to accepting his resignation as is.
"We have to get together as a group and accept it," said Mark Vanik, clerk of the board. "The rest of the meeting will be deciding his next 30 days. He will carry on as normal."
There are a few options on the table for the board. O'Donohue has accrued vacation time over the four years and six months he's been with the department. His contract states he can accrue a balance up to 240 hours, but how much time he has accrued up to this point is unclear.
Depending on how the board wants to proceed, they could ask O'Donohue to take vacation time in October instead of cashing out his vacation time upon resigning.
Any other form of compensation, however, will lie outside of his contract and will need to be approved by the board. There are no bonuses or additional compensation guaranteed to O'Donohue in his contract.
"It's a very delicate situation. You want to give all the options we can possibly afford to give him, and we're more than willing to give him," said Paul Gorham, chairman of the board.
"He has lots of comp time and sick leave that he can use so he didn't have to rush around in the last three days of his employment before he starts a new job. We want to make it as less stressful for him as we can."
Gorham specifically refuted concerns that O'Donohue has a "golden parachute" upon leaving the district, saying that he's "due his vacation and everything he would normally get."
"He's been here over four years. We have the obligation to give him leeway, within reason," said Gorham.
The board will meet at 6 p.m. at the Golden Valley Public Safety Training Center, 423 Colorado Road.
The meeting will start with executive session, with the public meeting to follow.