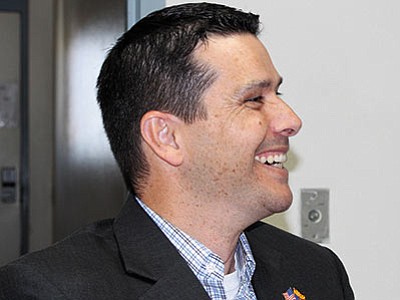 Originally Published: April 7, 2016 6:02 a.m.
KINGMAN - Ray Strauss is planning a run to challenge U.S. Rep. Paul Gosar that he says will focus on border security, transportation infrastructure, helping veterans and developing the state's economy.
"We see challenges," said Strauss, referring specifically to the border with Mexico and the state's somewhat moribund economy outside of the Phoenix and Tucson metropolitan areas.
"We have an unsecured border and our economy was one of the last to recover. It's because of the lack of effective leadership," he said.
It's the economy
A pastor in Buckeye for 20 years, Strauss said The Church at Sun Valley faced dwindling membership during the Great Recession, and those members were losing homes and jobs. Strauss said he and business leaders began to teach people how to start a business. "In time, the unemployed became employers," he said.
A seed was planted, one that led a pastor to enter public service at the request of Buckeye residents. "I said, 'Pastors don't get involved in politics.' But we ran in 2010, and I was elected with 73.4 percent of the vote."
He ran unopposed four years later. In the meantime, Buckeye's economy, he said, grew by 70 percent. Strauss is a graduate of the Harvard Kennedy School of Government Executive Education program and was an 11-time All American and two-time national champion sprinter when he attended Oklahoma Baptist University.
Strauss doesn't take all the credit for the turnaround in Buckeye, saying it was a group effort, but he did focus on the economy because people needed jobs. The Council was able to get a 100-year water assurance supply to spur development. He said that in turn brought in employers.
Last June, Buckeye was identified as the 15th fastest growing city by Forbes, and more than 1,000 jobs opened up in the city from 2012 through 2015. Buckeye was the only Arizona community to make the list.
On the border
Strauss said he toured the Mexican border while in Yuma recently. "Yuma knows how to secure the border," he said, mentioning the city's participation in Operation Streamline, a program that criminalized the act of illegally crossing the border rather than going through civilian immigration courts.
The program was heavily criticized because dozens of people would be in court at one time. Most would plead guilty and get a jail term between 30 days and six months before they were deported. However, the mass adjudications deprived them of due process.
As a result, the Obama administration has focused on immigrants that have a prior criminal record or have previously been deported and Operation Streamline, which proponents said worked, has been scuttled.
"Operation Streamline was very effective," said Strauss. "They were able to secure the border. Now the Yuma Sheriff's office is constrained. A large portion of its budget is going to housing these individuals."
Strauss believes Arizona must continue to highlight the problems on the border and "hold the feds' feet to the fire and make them enforce the law. We can't keep allowing someone to carry 20 pounds of drugs across the border."
The only way to address the immigration issue - and any other of the myriad issues plaguing the country - is to elect influential people to Congress, said Strauss.
"We need to elect people who know how to get things done," he said. "A leader solves problems. A leader doesn't blame or make excuses. A leader listens to people and gets things done."
Strauss noted a recent PEW poll found that more than half of Americans believe the country's best days have passed. "I'm an optimist," he said.
Strauss said he has been an effective member of the Buckeye City Council and the key has been his ability to listen to his constituents. He said being coercive or "whipping people into a frenzy" is not the way to go.
"We need a fresh face. The American people are frustrated with their elected officials."
Transportation infrastructure
The future construction of Interstate 11 and improvements to Interstate 40 and Highway 95 bodes well for Kingman's economic future, said Strauss, but every freeway, highway and byway in Arizona is in need of work if the state is going to reach its full economic potential.
He cited a report from Arizona State University that concluded that for every $1 billion in federal tax money invested in Arizona, the local boon to economic growth is $3.5 billion and 34,000 jobs are created.
"I will highlight this repeatedly in Congress. Arizona can serve as a catalyst for economic growth throughout the western United States," he said. He said he would also attempt to reign in the federal Environmental Protection Agency, which he considers a detriment to economic development, and he would do so with money.
"Congress controls the purse strings," he said. "That's how you reign them in."
While Strauss is less extreme in his views than some current office holders or seekers, he said he wouldn't call himself someone who's willing to compromise as much as he is someone who will listen and then talk. "I'm a persuader," he said.