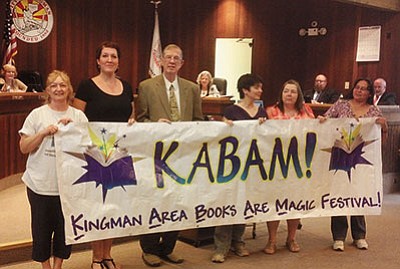 Originally Published: April 11, 2016 6:02 a.m.
KINGMAN - The City Council voted unanimously to deny a Kingman developer's request to abandon a formerly approved subdivision plat after hearing from concerned homeowners at Tuesday's meeting.
Kingman Associates 3 LLC requested the undeveloped tract, which consists of 27 lots on nearly 9 acres at Mission Boulevard and Granite Bluffs Drive, in order to have returned a nearly $408,000 performance bond.
The city accepted the bond in 2007 to assure the completion of improvements to the subdivision. Since then, the developer has attempted to alter the land use in an effort to build multifamily complexes.
One by one, about a dozen people who live in the adjoining Granite Bluffs subdivision told Council members they did not trust the developer and requested the Council deny the application.
The Planning and Zoning Commission on March 8 in a split 3-2 recommended approval after hearing from residents. The Council was more supportive. Vice Mayor Carole Young, the Council's longest-tenured member, said she recalled the previous occasions when the developer attempted to change the land use. The developer, according to Development Services Director Gary Jeppson, chose not to attend Tuesday's meeting.
"If he wants his money back he can sell the land," said Councilman Mark Abram.
In other items of note, the Council:
• Proclaimed April 23 KABAM! Festival Day. The Mohave Library Alliance holds the Kingman Area Books Are Magic event each spring. The festival features local and regional authors and illustrators. This year, local authors include Deborah Laurent and Miner photographer JC Amberlyn, whose latest book is being released this spring.
• Named Thomas Schulte to the Planning and Zoning Commission. He replaces Tyler Angle, who no longer resides within the city limits.
• Appointed Jacqueline Huntoon for the Historic Preservation Commission.
• Recognized a number of city employees for years of service ranging from five to 30 years and a few others on their retirements.
• Voted to begin the process to possibly change the zoning ordinance as it regards the placement of storage containers, the kind that are used to ship goods by rail, in Kingman.