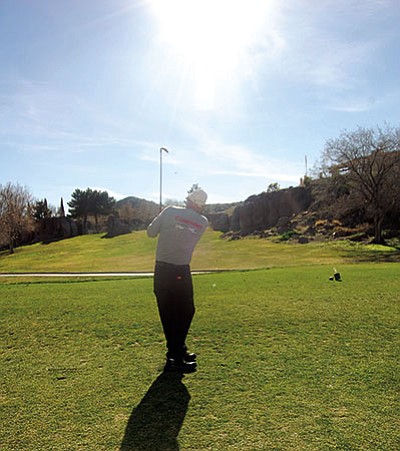 Originally Published: April 11, 2016 6 a.m.
KINGMAN - Last summer the City Council hired a consulting firm to study its options for repurposing effluent from the Hilltop Wastewater Treatment Facility.
Sunrise Engineering on Tuesday returned with a comprehensive report and three potential options: groundwater injection, airport park reuse, or reuse at the municipal Cerbat Cliffs Golf Course and city parks.
While staff concedes all three will be viable at some point in the future, from a financial perspective the only one that's workable right now is groundwater injection with a price-tag slightly over $1 million. Conversely, reusing the water at the Kingman Airport and Industrial Park or the golf course and parks would be $10.7 million and $8.2 million, respectively.
Injection
Groundwater injection involves drilling a well at the Hilltop facility and injecting water designated as A-plus (drinkable) back into the Hualapai Valley Basin and help replenish the supply to the aquifer, according to city Engineer Greg Henry.
In addition to being the least expensive, injection is also the simplest option to put in play, said Henry. The permit at Hilltop allows the city to produce 1 million gallons a day of A-plus water and 5.1 million gallons per day of B-plus reclaimed water.
An analysis revealed groundwater levels in the Hualapai Valley Basin have declined over time. Injecting A-plus reclaimed water would help to stabilize or even raise levels and there are a few ways injection could be achieved.
The city owns a few drinking water wells within three miles of the Hilltop plant. One of them, Well No. 6, has the capacity to inject the desired 1 million gallons per day, but in order to save on the cost of installing a distribution system to the well, it was decided a better idea would be to drill a new injection well at the Hilltop plant and allow gravity to feed the 1 million gallons per day
While this option is the cheapest initially, it also is the least expensive over the long term, with minimal permitting required by the Arizona Department of Environmental Quality, and minimal operations and maintenance costs as there would be no pumps, storage tank or pipeline to maintain.
Airport Industrial Park
While the airport option is the most expensive at more than $10 million, the water usage study Sunrise conducted yielded a surprising finding: Peak reclaimed water demand was less than 350,000 gallons per day.
City Manager John Dougherty on Thursday said the city cannot assume the full burden of running a pipeline from Hilltop to the airport without participation from the companies that do business out there. In any event, this option will likely not receive any serious consideration until more manufacturers open at the industrial park.
As things stand now, piping reclaimed water to the airport would require a booster station to pump the stored water though an 8-inch distribution line with 6-inch pipe branching off to individual businesses.
The line would follow the city's existing sewer easement along Mohave Wash and then east, where it would have to go underneath Route 66 and then to the airport.
Permitting with ADEQ would be cumbersome. Construction costs come in at $10.7 million, and the long-term costs also would be high as city staff would have to maintain pumps, storage tanks and several miles of pipeline.
There are a couple other knocks against this plan. One is a rate analysis that found reclaimed water base rates would need to be adjusted to fund the project. A limited number of users with low water demands "equated to a reclaimed water base rate increase of approximately $1,057 higher than the city's current water base rate," according to Sunrise Engineers.
Also, a survey of airport businesses indicate a majority don't favor this option.
Golf course, parks, schools
Using A-plus reclaimed water to keep the grass green at the golf course, Kingman High and Middle schools, Kingman Academy of Learning, Firefighters Memorial and Centennial parks and the Mohave County Fairgrounds would save the city water and, over time, money.
The golf course alone, according to the study, uses almost 1 million gallons a day during the summer months. Kingman High was a distant second at just under 300,000 gallons per day, three times less of a demand than the golf course.
This fact made it easy to pinpoint Cerbat Cliffs as the logical target for a pipeline. Logistically it makes sense to branch out to the other entities as they all are situated between the Hilltop facility in the northwest and the golf course in the southeast.
The route would branch off Mohave Wash to hook into Kingman High and then return to the wash until it hits Airway Avenue. From there the line would head east to Burbank and turn south to hook into KAOL and Centennial Park. It would then bore under Interstate 40 to Firefighter Memorial Park, Kingman Middle School and the Fairgrounds, which are all clustered together, and then to the golf course where it would be stored at a pond that already exists. A new booster station would have to be put in to pressurize irrigation systems and booster stations also will be required at every stop along the route with the exception of the high school.
Permitting would be minimal and long-term operations and maintenance would be expensive.
More problematic, the city's current water rates would increase about $3.16 a month to pay for this option.
The golf course option scored the highest - 129 out of 200 possible points - because it would free up existing water infrastructure and it also qualifies for state Water Infrastructure Finance Administration loans. It would also reduce demands on the city's water system and the rate increase are considered slight.
Staff, however, knowing how tight city finances are, recommended injection as it is by far the cheapest to install and maintain.
The Council took no action Tuesday, but could make a decision in the near future.