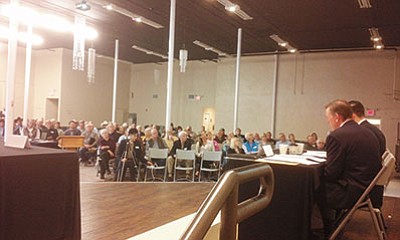 Originally Published: April 12, 2016 6 a.m.
KINGMAN - A plan to designate 1.7 million acres of northern Arizona wilderness as a national monument was roundly criticized Monday when U.S. Rep. Paul Gosar held a hearing in Kingman.
Every speaker opposed the establishment of the Grand Canyon Watershed National Monument - known as the Grand Canyon Heritage National Monument in the official record, so named by its sponsor, U.S. Rep. Raul Grijalva, D-Tucson. Gosar, R-Prescott, had an altogether different name for the effort: An unconstitutional federal land grab.
Central to the issue is President Barack Obama's use of the 110-year-old federal Antiquities Act, which he used to make the designation that now awaits congressional approval. Last summer, the House passed Gosar's resolution to challenge the designation and it is now up to the Senate to take action.
Those who spoke against the designation represent the industries and recreational pursuits that will likely be most affected if the designation is made. They fear it will restrict access to the land and ultimately ban mining, ranching and energy production and transmission. Critics also include logging interests, hunters and fishers, campers, hikers and mountain bikers and anyone else who takes advantage of the great outdoors and its natural resources.
The ancient Antiquities Act
The monument would encompass all of the north Kaibab and Tusayan ranger districts of the Kaibab National Forest, as well as lands on the Arizona Strip north of the Colorado River. All lands already are managed by the federal Bureau of Land Management or U.S. Forest Service, and the Arizona Game and Fish Department works in collaboration with its federal counterparts in managing wildlife. A significant percentage of the land in question is located in Mohave County.
Here are some key concerns.
• Already, roughly 70 percent of the land in Arizona is in federal control or is set aside as tribal reservations. They include military bases and a number of protected habitats and other uses. The state owns about 10 percent of the land in the state, and the remaining 20 percent is in private hands. In Mohave County, all but 16 percent of the nearly 14,000 square miles is under some sort of federal control.
• Arizona is home to 18 national parks or monuments, nearly 20 percent of the almost 100 such sites in the U.S.
• The Antiquities Act requires the federal government to take the smallest amount of land possible that is needed to protect the cultural artifacts for which the monument is designated. Critics contend 1.7 million acres is excessive. It also was noted that national monuments east of Colorado are much smaller because the amount of public lands in that half of the country is much lower.
Gosar's main objective is to block presidential abuse of the Antiquities Act.
• Lawsuits from Western states are a foregone conclusion. Utah has already filed a lawsuit against the federal government and Arizona could become a co-plaintiff, according to House Speaker David Gowan, R-Sierra Vista. Still other states might join in, as the 11 western states continue to push back on what is considered pervasive federal overreach.
Unlawful taking
While most of the land that is contiguous to the proposed monument is already under federal management, not all of the lands within it are public. According to several speakers, the state manages 64,000 acres of trust land inside the proposed monument boundaries, and 28,000 acres are privately owned.
Because those properties are surrounded by federal land, they are subject to federal regulations. Gosar said this constitutes an unlawful taking, particularly since these owners have not received just compensation for land they likely won't ever be able to sell once the designation is made.
While proponents say property rights will not be affected, others claim the federal government put a meter on a private property's well after it was learned the water used came from under a national monument in Utah.
The government said permissible activities on national monuments include public access and rights of way, sightseeing, mountain biking, hiking, wildlife viewing, birding, hunting, fishing, and traditional tribal access.
But critics claim those rights are always limited by environmental impact studies that take on average four years to complete - after an area has been designated a national monument.
Strong criticism
Perhaps the most forceful comments came from Kurt Davis, of the state's Fish and Game department.
Davis noted the land surrounding the proposed monument is already under federal control, and in total that land is more than 6 million acres out of a total of 10.3 million acres in the state.
"It's nearly the size of Maryland," said Davis, adding the land is currently managed for multiple use. Should the Watershed Monument come into law, Davis said the federal government would make policy on wildlife management and all other uses, taking complete control from the state and "impeding Game and Fish's ability to fulfill its mission. They'll slowly choke out multiple use, and they'll also keep the water, either by presidential fiat or congressional approval."
Davis also criticized the federal government's ability to manage public lands. He noted the Sonoran Desert National Monument in the Maricopa Mountains was home to a herd of 103 bighorn sheep when the monument was established in 1999. The herd has dwindled to less than 35, he said, because there was no management plan to address the problem and the federal government failed to find an adequate water supply.
Critics also noted the federal park system is a stunning $11.9 billion behind on deferred maintenance costs already, so it makes little sense to add another 1.7 million acres to the system.
Davis said it isn't uncommon for restrictions to national monuments to be implemented, ranging from arbitrary road closures to bans on target shooting, a pastime that goes back to Arizona's territorial days.
Multiple Use Doctrine
Critics contend the designation flies against provisions in the federal Multiple Use Doctrine that governs public land use. Simply put, the doctrine calls for the government to provide the broadest use possible, both for private pursuits and industry for the best benefit to the public.
That includes making room for Arizona's multi-million dollar hardrock mining industry, and especially its uranium mining, which has been severely limited since 2012, when a 20-year moratorium of mining the mineral within 100 miles of the Grand Canyon was put into effect.
Indeed, proponents claim the designation is needed to not only protect Native American cultural artifacts - people have lived in the region for 12,000 years - but also to protect the water basin.
Critics cry foul, saying neither tribes nor water advocates spearheaded the push for the designation. Rather, "extreme environmental groups" such as the Sierra Club are behind the movement, according to Mohave County Supervisor Gary Watson.
Obama also was criticized. Critics said the more than 2 million acres he has set aside is the most of any president, and that he is doing so as a means to build a legacy, not out of concern for protecting wilderness.
For Game and Fish's Davis, the designation would be devastating and moves the nation one step closer to an outright lockout.
"This will put at risk more species, and we'll add more names to the Endangered Species Act," he said. "It's a grand scheme to wipe out human interaction" in the wilderness.
More like this story