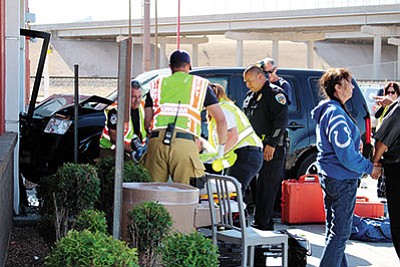 Originally Published: April 13, 2016 10:34 a.m.
KINGMAN - Two people were injured this morning at the McDonald's on Andy Devine Avenue after the driver of this SUV crashed into the entrance sometime after 9:30 a.m.
The driver of the SUV, an elderly woman, was parked when she inadvertently put her foot on the accelerator rather than the brake. She crashed into the doors.
Two men standing inside were injured and taken to Kingman Regional Medical Center, according to Kingman Police Deputy Chief Rusty Cooper.