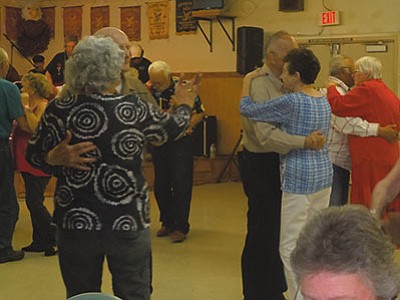 Originally Published: April 14, 2016 6:02 a.m.
American Legion Family of Post 14: The Legionnaires will be meeting at 5:30 p.m. today. This will be the second round of nominations for the 2016-17 officers. In honor of tax day, for Friday Night Out we'll be offering po'boy sandwiches, coleslaw and gelatin dessert from 5-7 p.m. for $5 a plate. The Sons from Squadron 14 will be participating at the detachment's annual campout in Cottonwood Friday through Saturday. The Post family newsletter deadline is Sunday.
Belles of St. Mary's: You all know that Tuesday night we Belles were in attendance at our every second Tuesday night meeting, right? We will meet again in May and then we scamper off to enjoy the summer months. Of course we come together to serve in any church activity or event as presents itself throughout these months - that is a given. We Belles have stepped up since pre-1906 under various and sundry titles (i.e. Altar Society, Ladies of the Parish) and thus we are woven throughout the tapestry of Kingman's Catholic accomplishments. Join us, won't you? Major event this Sunday: a very deserving and talented young man will be recognized, honored and applauded for his leadership, dedication and accomplishments. His participation in our Catholic community and his unselfish fulfilment of a promise given to the St. Vincent de Paul Society, among other feats, will be acknowledged this Sunday at the Eagle Scout Court of Honor - Alex Hunter Tempert, may God continue to bless you.
The Cerbat Garden Club welcomes guests at its meetings on the second Wednesday of the month from September through June. The garden club meets from 10 a.m. until noon in the fellowship hall of St. John's United Methodist Church at 1731 Kino Ave. in Kingman. Our mission is to promote gardening, floral design, civic beautification, environmental responsibility and the exchange of information and ideas. Visit our booth and the upcoming Home and Garden Show. We'll have many garden and house plants for sale. Our April 20 Gardeners' Day Out will be a trip to Jan Emmings' desert garden near Yucca. For more information, call Sandy at 928-692-2778. Visit our Facebook page and website, www.cerbatgardenclub.org.
Cheap Shots Gun Club is a Christian gun club that has been shooting at the Mohave Sportsman Club, a.k.a. Seven Mile Range, for the last six years. Our members (men and women) are members of a number of churches in the area. We shoot on the first Saturday at 8 a.m. and have a meeting at Praise Chapel, room four, on the last Saturday of the month at 9 a.m. The members will also receive medals for first, second and third place at the end of the year in the following events: Pistol, rimfire and center fire rifle, center fire 200 yards scope, and 100 yards open sight. Rimfire, 75 yards with scope, and 50 yards open sight. For information, call Bill McCune at 928-716-2872.
Dig It Kingman Community Gardens: The University of Arizona Cooperative Extension Mohave County Kingman Master Gardeners are having a Plant Talk series in the garden. The second Plant Talk will be at 5:30 p.m. April 21 in the community garden, 2301 Lillie Ave. Sue West will talk about soil, Sandy Hampson will talk about perennials and Ron Tanner will talk about melons. This is an informal chat, so bring your hat, chair and enjoy. The last Plant Talk will be held on May 5 and the subjects are Armenian cucumbers, catnip and herbs.
Friday Duplicate Bridge: The results of the game on April 8 were: first place, Donna Blaschak and Jim Blaschak; second: Doug Heard and Sylvia Goryl; tied for third and fourth were: Kay Klaus and Jerry Lipson, and Gladys Smith and Coie O'Malley.
Friends of the Library-Valle Vista: The Friends will be holding a Spring Book and Bake Sale from 9 a.m.-2 p.m. Saturday at 7264 Concho Drive, Suite B. Contact 928-692-7662 for more information.
Kingman Pinochle Club: The results for the April 9 games were: first place, H. Allred; second place, Jan Crosier; and third place, Maryann Slupcyynski. For more information about the club or to come play with us, please call Connie at 928-681-4934.
Kingman Railroad Museum: The Whistle Stop Railroad Club operates the Kingman Railroad Museum for the pleasure of the community. In addition to a growing railroad collection, we have three model railroads in operation. Anyone interested in getting involved with the club or museum is invited to come to our next meeting at 9 a.m. Saturday at the museum. It is located at 403 E. Andy Devine Ave. in the restored Santa Fe Railroad Depot and is open Wednesday through Sunday from 10 a.m. to 4 p.m. For more information, call the museum at 928-718-1440, visit our website, www.kingmanrailroadmuseum.org, or see us on Facebook.
Kingman Social Club: On Tuesday, the Kingman Social Club will hold its "No Host" luncheon at the Elks Lodge at 11 a.m. The speaker will be Josh Noble from Kingman Visitor Center. He will tell you about what there is to visit. The Kingman Social Club is an organization open to all of Kingman and surrounding areas. The club does various fundraisers during the year and donates the money to different organizations that help the less fortunate The Dine Out will be at Scooters, 2750 Miracle Mile in Bullhead City at noon. There will be lunch and a golf tournament at Scooters and for the people who do not golf there will be bingo with Vi. If anyone needs a ride to Bullhead, contact Bob Whitsell. For reservations, they can be made at the meeting or contact Vi Butler at 928-377-3384. For further information about the Kingman Social Club and its activities, contact Bob Whitsell at 928-377-2010.
Korean War Veterans of Mohave County: For all Korean War and Korean service veterans: Meetings are the first Saturday of each month at 1 p.m. at VFW Post 10386, 3036 John L Ave. in Kingman. We are always looking for new applicants. Just bring your DD214 and we will do the rest. We look forward to seeing you. For further information, please call 928-757-0492.
Living the Loss of Your Child Christ Care Grief Group: We meet on the first Wednesday of each month at 6 p.m. in the Golden Valley Baptist Church, 100 S. Higley Road, Golden Valley. The meetings are open to those who have lost children or loved ones. The meetings are to share, show compassion and support, and encourage personal Christian growth during this most difficult time in our lives. Our main purpose is to care for others as Christ cares for us. For more information, contact Cynde Anthony at 928-856-0847 or Angie Berg at 928-716-9590.
Meadview Library Book Discussion Group: Meetings are at 10 a.m. on the third Friday of every even-numbered month (February, April, June, etc.) at the Meadview Library. The purpose of the discussion group is to promote reading and have a mature, interactive discussion with other readers about the chosen book. Meetings are one hour long. Stop by the Meadview Library and check out our next book selection to read and discuss, read the book at your leisure, then come to discussion.
Mohave Arms Collectors Association: MACA's meeting is at 6:30 p.m. the last Thursday of the month. There will be no monthly theme for this meeting; any firearms are welcome - show off anything. The Mohave Arms Collectors are holding a drawing for a Lake Mead fishing trip courtesy of Don Martin of Striper Hunters operating out of Kingman and Meadview. They are selling contest tickets for $5 each or five for $20. The drawing will be held on April 28. The winning ticket will be drawn by invited guest Mohave County Sheriff candidate Rodney Head. Tickets are going fast, but are still available at the Gun Shop Inc., located at 4938 Stockton Hill Road. For more information or to purchase tickets, contact Don at 928-681-4867 or Keith Gilbert at 928-681-4476.
Mohave Artists and Craftsmen Guild will be holding their next meeting at 5:30 p.m. Tuesday at KRMC in the Neal Room. Our presenter this month will be Sara Peterson. She will be sharing with us some great plans for the future of the arts in Kingman. Don't miss this month's presentation. She has some exciting things in store for our town. Contact Carol Rose at 928-753-4132 for more information.
The Mohave County Genealogical Society is a group of people interested in working on their family trees. We have members ranging from beginners to experienced and everywhere in between. Our presenter this month will talk about the trials, tribulations and triumphs looking for information on her maternal grandparents in Missouri and Oklahoma. We meet at 1 p.m. the second Wednesday of the month at the Mohave Museum of History and Art, 400 W. Beale St. in Kingman. All visitors are welcome and there is no museum fee for attending the meeting.
Morning Glories CFIC: The April 21 meeting will be in the Fellowship Hall of St. John's church, 1730 Kino Ave. The Morning Glories CFIC will meet at 9:30 a.m. for refreshments and social time. Meeting will begin at 10 a.m. The program is "Baby Shower for Charity." Please bring your donations to this meeting. We will also elect new club officers for the coming year.
Route 66 Riders, LTD, is a motorcycle club of local friends from all walks of life who enjoy riding together. We welcome all makes of motorcycles, including trikes. Our monthly business meeting is the second Tuesday of each month at the Golden Corral restaurant at 7 p.m. Come at 6 p.m. to enjoy dinner with the membership. In addition to longer rides, we schedule a ride on the first Saturday of each month, as well as impromptu rides every Sunday afternoon. Our website, www.rt66riders.com, contains information regarding recent events, meetings, calendars, newsletters and a form to contact the board members. You can access our Facebook page from the website.
Snugs and Hugs: We are a charity group. We knit, crochet and quilt. We make afghans, quilts, scarves and hats. We donate them to all the needy groups in the area. We meet once a month on the first Thursday at 10 a.m. at the Spinster, located at 116 N. Fourth St. We are accepting donations of yarn and fabric or batting. New members are welcome. Come and see what we are about. For more information contact Bobbie at 928-753-5999.
Teamster Retirees and Associates: The group meets the first Wednesday of each month at 302 Monroe St. (Moose Lodge) in Kingman. Friendly people, good conversation and food. For more information, call 928-692-1071.
Thursday Party Bridge: The winners of the April 7 games were: first, Paul Greening; second, Doug Heard; and third, Coie O'Malley.
Venture Club of Kingman invites you to the Third Annual Casino Night. Slated for April 23, Casino Night promises to be an evening of Las Vegas-style entertainment featuring live table games, a buffet dinner, live and silent auctions, cocktails and dancing. Casino Night serves as Venture Club of Kingman's annual fundraiser to help support efforts in supplying community welfare and betterment in Kingman. Proceeds from this event will benefit the Venture Service Fund, which is distributed directly back into our community in the form of scholarships for local women, donations to other local organizations, and our long-term community project, the Splash Pad. For additional information, please email us at info@ventureclubofkingman.org.
The Watchmakers-Clockmakers: If you are interested in antique watches or clocks as a collector, repair person, or just have an interest, we met the first Tuesday of each month. For more information, call Richard at 928-753-6489.
Wednesday Party Bridge: The winners for the April 6 games were: first, Sandy Miles; second, Coie O'Malley; and third, Carolyn Johnston.