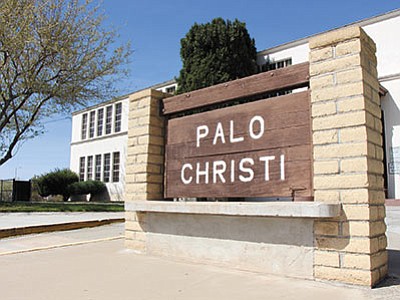 Originally Published: April 14, 2016 6:02 a.m.
KINGMAN - Achievements in music, business, theater and computer science, as well as continuing plans to transfer ownership of Palo Christi School to the city of Kingman, topped Tuesday's Kingman Unified School District Governing Board meeting.
Teachers and students stood before the board and applauded the impacts of some of the art and technical programs at KUSD schools.
Students in band programs from Kingman High School, Lee Williams High School, White Cliffs Middle School and Kingman Middle School were recognized for placements in state and regional bands.
"We are thrilled with these kids who were so diligent," said district music coordinator Julie Gragg. "I'd like to thank the board and parents for their support in this program. Music really does make a difference."
"Music is important," said KMS eighth-grade clarinet player Kalyse Whitehead, who recently qualified for a spot in the Arizona All-State Band. "It gives students a creative reference and allows us to voice it."
Kids in the Career Technical Student Organization, which includes vocational programs such as graphic arts, agriculture, culinary arts and computer science, were also recognized for accomplishments at state competitions.
"There are state and national organizations that help kids develop skills for jobs they are interested in," said district Career and Technical Education Director Carol Gunnerson. "They learn leadership and communication skills and how to be professionals."
"The program makes success in life a little bit easier. Idle hands get kids in trouble," she said.
Superintendent Roger Jacks praised the programs, including the Kingman FIRST Robotics Team 60, which recently earned a trip to a national competition.
"I'm proud of them and what the team has accomplished," he said.
Palo Christi
The possibility of transferring ownership of Palo Christi Elementary School to the city of Kingman was another hot topic.
"What we would like to do tonight is get board approval to move forward to exploring the interest the city might have in Palo Christi," Jacks said.
"I'm wholeheartedly in favor in of allowing those discussions to continue," said board Vice President Laurie Barthlow. "This is such a wonderful point in history. There seems to be a lot of support for the city utilizing that building."
"I'm also in favor of looking into any possibilities whatsoever to saving the building and making it useful," said board member Bruce Ricca.
Kingman Mayor Richard Anderson was at the meeting to voice comments.
"I'd certainly like to explore options to see the city consolidate and become more efficient," Anderson said.
"It would be wonderful if that school could be turned into a city complex," said Palo Christi Committee member Dorothy Brown. "I would even like to see the gym turned into an auditorium for city council meetings."
Board members agreed that the city should draft a proposal and then come back in the coming months to discuss plans.
"We have a responsibility to the community to do what we can to save some of these properties," said planner Bill Schillings.
"Contrary to recent reports, the city isn't running around with a wrecking ball trying to tear them all down."
There were also changes to the 2016-17 school schedule and bell calendars.
As of July, the KUSD high schools will increase by 20 minutes per day, middle schools by 52 minutes and elementary schools by 43 minutes. Late start Wednesdays will be done away with, but the four-day schedule will continue.
The schedule and calendar are posted online at: www.kusd.org.