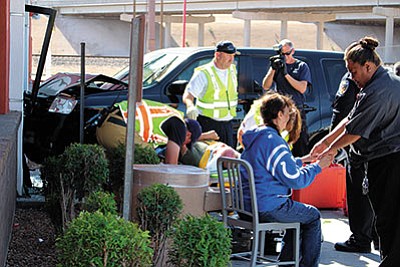 Originally Published: April 15, 2016 6 a.m.
KINGMAN - No traffic charges will be filed against an Indiana woman who crashed her SUV into an entrance to McDonald's on Andy Devine Avenue Wednesday morning.
Two Phoenix-area men were standing at the doors when the woman, 69, accidentally pushed the accelerator rather than the brake of her Honda SUV. The vehicle jumped the parking blocks and crashed into the doors at about 9:30 a.m.
The men, 67 and 32, were treated for minor lower leg injuries at Kingman Regional Medical Center and released.
Kingman Police Deputy Chief Rusty Cooper said laws regulating private property crashes differ from public crashes.
"In this case, the cause of the crash was determined to have been accidental, not reckless," said Cooper. "Therefore, no charges were filed."
More like this story