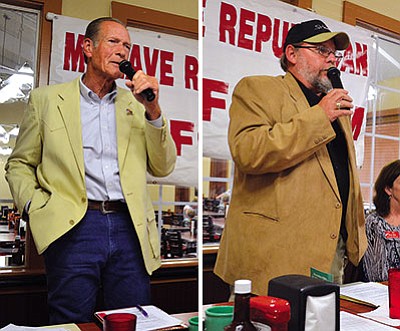 Originally Published: April 17, 2016 5:59 a.m.
KINGMAN - GOP supporters armed with pistols and a slew of questions packed a tiny meeting room inside Golden Corral at the April Mohave Republican Forum Wednesday night.
Taxes, roads, parks, dust and water were some hotly discussed topics as incumbent Mohave County District 1 Supervisor Gary Watson and challenger Jeffery Jolly's exchanges riveted the audience.
Watson, a businessman, has been in office since 2008 and had the calm demeanor of an experienced politician throughout the evening.
He's managed family businesses, served as vice president of Blue River Water Corporation, vice mayor of Kingman and chairman of the board for the Arizona Community Colleges.
"I've been part of many successful endeavors in this county," he said.
Jolly, who owns SHOTS Ranch east of Kingman and north of Interstate 40 and decided to run for office in October, made it clear that he intends to put up a strong fight.
"I'll guarantee you I'll never be a politician," he said. "I'm a fighter. Sometimes I come off a little bit rough."
He explained why he decided to enter the race.
"My property taxes kept going up and there were the same people in office limiting my rights at the (Mohave County Administration) building," he said. "There's also been mismanagement of money."
He felt he didn't want to deal with the political puppet strings and money issues but decided someone had to step in to break up the monotony.
County recorder candidates Kristi Blair and Kim Stewart were present to build their cases to replace former recorder Carol Meier, who passed away in February.
Blair is currently the chief deputy recorder and has worked with the county since 2009. Stewart is voter registration supervisor and has worked with the county for more than 20 years.
The recorder's office is responsible for records management and voter registration.
"You have to surround yourself with knowledgeable people but have a solid overview of all functions," Blair said.
"The recorder should be able to handle everything (in the department)," Stewart replied.
Each set of candidates answered questions on their respective issues, but the heavy hitters were Watson and Jolly.
Property taxes
Candidates were asked if they would support a property tax increase when property values go down and reductions in tax when values go up.
"I would not support a blanket tax," Jolly firmly stated. "This would have to be on a case to case basis."
"I have increased the tax rate," Watson said. "It was to keep enough money in the budget to run the essential services of Mohave County - jails, sheriff's office and a portion of the courts."
Roads
When asked about getting county roads paved and chip-sealed, Watson expressed his disgust at how much money the state takes away from county road funds used to deal with those problems.
He praised Arizona House of Representatives members Sonny Borrelli and Regina Cobb for representing the county at the Capitol.
"It is ludicrous for this to continue to happen," he charged. "Our enemies are the legislators in Maricopa. Those are the people that are robbing us."
Parks and fairgrounds
A hearty discussion with colorful comments came regarding the fairgrounds. The county fair and Andy Devine Days rodeo are the largest revenue generators and both candidates felt that the property should be used to its fullest potential.
"Hualapai Mountain Park and Davis Camp are doing well. They're becoming quite profitable," Watson said. "We plan to take a portion of those dollars and reinvest into the fairgrounds."
"We do not have a lot of event-holding places," Jolly said. "It should be the stage until someone comes in and builds something better. That fairgrounds should be taken care of like it's a prized pig."
Dust and water
Dust at the fairgrounds in Kingman and out by the solar plant and farms near Valle Vista was a reoccurring issue.
Jolly suggested using tailings (the ground rock and chemical remnants from mining and construction) to improve the dust problem.
"The next time the road company grinds, why don't we put that on the fairgrounds?" he suggested. "We want to be a good steward and neighbor."
Watson said the dust from farms north of Kingman is terrible for Valle Vista residents and that old water laws haven't been updated to accommodate the new agricultural developments.
"There needs to be some mechanism to measure how much water the large farms are using," he said. "It's going to gall you to see your water being exported to Saudi Arabia in the form of alfalfa. That galls me."
Kingman resident Robert Fenwick expressed concern about county water usage.
"The people need to know - do we have a water problem with all that is being used? And yes, we have a problem.
"The person that solves my water problem is the person I want to vote for as supervisor."
Marijuana legalization
All four candidates were asked about the possibility of recreational marijuana initiative on the November ballot.
"I see that it might be the wave of the future. I can't believe the health benefits of something that has been illegal for so long could all of a sudden be great," Blair said. "I'm very much opposed."
"I understand it brings in tax dollars but I'm not sure it's a good idea," Stewart said.
Jolly had a bit more to say: "I see a lot of things going in the right direction with the right people. I think that anything that could be detrimental to someone health, they need to watch what they're doing. I'm probably not so much for it."
Watson was worried that any tax dollars associated with legalization would go to the state and not the county. He also expressed law enforcement concerns.
"It would drive the sheriff's department crazy. They got enough to deal with."
Audience participation
As usual, part of the forum is dedicated to letting constituents speak out.
Former Mohave County Sheriff's Deputy Cori Merryman, who is running for sheriff, asked each candidate about their best qualities and what makes them electable.
"Why should I vote for each of you?" she asked. "What makes each of you unique?"
"I've been in successful building businesses in this county," Watson stated. "I'm a hard-working person and you can guarantee when I'll say I'll deliver, I'll deliver."
"One word: Integrity," said Jolly.
"I'm very dedicated. I'm the first one in the door and the last one out," Blair said.
"I've always worked alongside my staff as a supervisor," Stewart said. "I've never asked them to do something I wouldn't do myself."
Final comments
"We intend to do the best job we can for the next four years. It going to be difficult," Watson said. "I feel very confident we can meet the challenges."
"I'm passionate. I want his seat. I want it bad," Jolly declared.
Jolly affirmed he wants to ensure all county residents get a fair share of face time with their elected officials.
"We're not reaching the total population of the county. I'd like to see more of these forums in places outside of Kingman," he said. "We need to go to some of the outlying areas so they don't have to travel 75 miles to get to Kingman."
Watson didn't single out any one issue as paramount to the others.
"They're all important," he said of the two-hour forum. "It was good dialogue with everyone."
More like this story