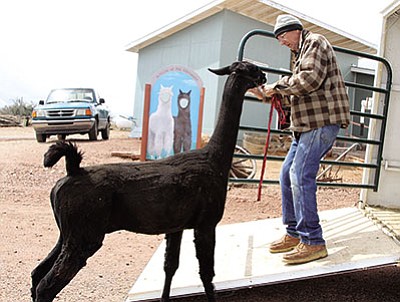 Originally Published: April 17, 2016 5:59 a.m.
Alpacas of the Southwest held its 11th annual Alpaca Shearing Day March 9 at their ranch outside of Kingman.
BioSecure Alpaca Shearing sheared 45 animals there, which consisted of alpacas and one llama.
About 45 people came by through the morning to observe and learn about the shearing process and several volunteers helped during the event.
Animals were sheared, given vaccinations, and had foot and dental work done.
Biosecure Alpaca Shearing has six teams that travel across the lower 48 states shearing animals. This team has worked on about 6,000 animals in three months' time.
Ron and Anna Nyberg have the alpaca fiber processed into socks, sweaters, blankets and other items.
Some friends also have their animals sheared at the same time.
Top, Michael Frazier brought his llama "Johnny No Boots" to be sheared. He said it was his third time there: "I've learned so much about raising alpacas and llamas from Ron."
Bottom, John Gunther, founder of BioSecure Alpaca Shearing (front), and Jonathan Knutson shear an alpaca.