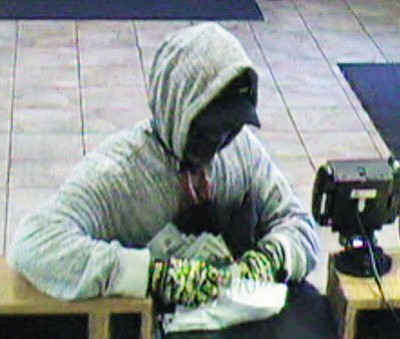 Originally Published: April 18, 2016 4:52 p.m.
BULLHEAD CITY - Bullhead City Police continue to search for a man who wore a black bag over his head when he robbed a Wells Fargo bank April 12. Mohave Silent Witness is offering a reward of up to $750 for information that leads to an arrest.
The man entered the bank in the 1700 block of Highway 95 at about 9:40 a.m. He had the bag over his head when he handed the teller a note stating he had a weapon and demanding money.
The man ran from the bank with an undisclosed amount of cash in the black bag. He wore a gray hooded sweatshirt with the hood up, over a black baseball cap, dark colored pants and Wilson brand yellow and green camo sporting gloves.
The man also wore sunglasses and something unidentified covered his face, according to Bullhead City Police spokeswoman Emily Fromelt.
Anyone with information is asked to contact Bullhead Police at 928-763-9200 or Silent Witness at 928-753-1234 or 888-227-8780.
Calls can be made anonymously.