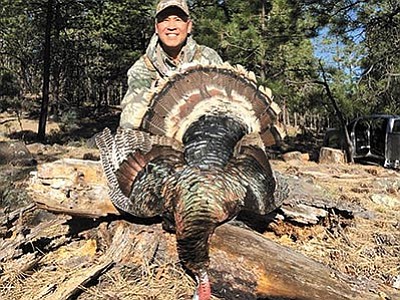 Originally Published: April 19, 2016 6:02 a.m.
The gobbler sounded off with a thundering and sometimes incessant "gobble-gobble" on a nearby hillside and started in motion another day of life in the forest in northern Arizona.
I was on my annual turkey hunting pilgrimage to the San Carlos Indian reservation in eastern Arizona. And with me this year were a number of longtime turkey hunting friends, and even a new one who joined us this year.
Glendale resident Eric Hawkinberry is no doubt the "turkey guru" of our group.
He is an outdoorsman in the truest sense of the word, but hunting turkeys in the spring is indeed his passion.
He is a great caller and knows the habits of the birds we pursue year after year.
Kensen Lee is a Las Vegas resident who also likes to hunt, and turkeys are his favorite big game bird to pursue. This was the third hunt that Kensen joined us on.
Maynard Ely is from Reno, Nev., and is truly a newbie when it comes to turkey hunting. He has hunted gobblers only one time before in Nevada, and this would be his first Arizona turkey hunt.
My friend Don Tirpak lives in Buckeye and this was his second trip to the magic land of the San Carlos Apaches.
Accompanying Tirpak on the hunt was his friend Bill Cullins, who was on his first San Carlos turkey hunt.
So the stage was set and a large tent camp was erected in a campground at Point of Pines, a beautiful 34-acre lake where stands of majestic Ponderosa pines trees provide a perfect starting point for our adventure.
The plan was simple. Eric would assist Maynard and Kensen, while I hunted alone. Tirpak and Cullins, who had just a day and half to hunt, would be on their own.
Since I was still dealing with a knee injury, I decided to set up a pop-up blind on a hillside and put a pair of Avian X decoys in front of it. I hoped to intercept some groups of birds that roosted in the same area every night.
On opening day, Eric decided to check out an area where the day before the season opened, we heard roosted gobblers.
Don and Bill also would go to an area where he Don had seen birds in the past.
Looked like a good plan.
On opening morning, it didn't take me long to figure out I had put the blind about 150 yards from where I should have.
The birds flew down alright, but they just fed away with a longbeard gobbling his head off, in the opposite direction of where I was. Turkeys 1, hunter 0.
Hawkinberry got the two hunters set up and started calling. Gobblers and hens were all around where they had set up in the cold pre-dawn darkness.
Hawkinberry decided not to take his shotgun, as he hoped that either Lee or Ely would bag any gobbler than came in to his calls.
The birds flew off the roost just like they hoped and one gobbler worked his way towards the hunters who had been sitting quietly against the pine trees, patiently waiting.
Problem was, the gobbler never got into shooting range.
But it did walk up to within 10 feet of Hawkinberry, who you'll remember had elected NOT to bring his shotgun as he was the designated caller. Turkeys 2, hunters 0!
Tirpak and Cullins found birds, but no amount of calling or stalking could get them into range. Turkeys 3, hunters 0.
But that afternoon, things changed. I moved my blind to another area, and the "Three Musketeers," as I called them, got into some more action.
They spotted a pair of jakes, young gobblers who were walking across the road. They let the birds leave the area and then walked in and set up.
Hawkinberry's calling brought the pair back and it didn't take Ely long to fill his tag with his first Merriams's gobbler. The hunters were now on the board!
On Day 2, I was in the blind well before daylight, with the decoys out.
Birds were right where I hoped they would be, but something was missing. Yep, the gobbler was nowhere to be seen nor heard, despite the fact I had not one, but two groups of vocal hens in the trees on either side of me.
When they flew down, a bearded hen (which is legal to take) and another hen walked 32 yards from my blind.
Another group of over 10 hens flew down and starting feeding to my right.
Suddenly, way off, I heard the familiar gobble-gobble and within minutes a long beard joined up with the two groups and I watched helplessly as they chased each other around. They were 150 yards away, and all I could do was watch and wait.
The Three Musketeers worked birds all day, but had come up empty too.
Day 3: Ely joined me as we drove off in the darkness to try an area I had luck at several years ago.
It was a good plan and we were on a roosted gobbler almost as soon as we got there. Unfortunately, he seemed to have a "date" with some hens in the bottom of Black River, and we never saw him. We heard several other gobblers in the area, but nothing came in close enough for a shot.
Eric and Kensen had better luck. They set back up in the same area as they had on opening day. This time a lonesome gobbler walked by Kensen and he dropped it at 28 yards. That bird was two years old and sported a beard that was 9-5/8 inches long.
Later that morning they had stopped at a spot, and when Eric called they were met with a thunderous response less than 100 yards away.
A little calling brought in two longbeards. Hawkinberry's hunt was soon over. Eric's bird was also two years old and had a beard that measured 9-1/8 inches long.
Tirpak and Cullins had gone home, so now it was only me who needed to fill my tag.
Kensen had a turkey tag in Utah later in the week (I told you he was also a turkey hunting fanatic), so they decided to stay just one more day to see if I could close the deal.
The next day saw Erih with me in the area where Maynard got his bird.
Eric's soft yelps with my box call brought forth a series of excited gobbles far away.
In the next 30 minutes we worked the bird, which got closer and closer.
Finally I saw that big red head coming down the mountain.
At a range of 36 yards he appeared. I took aim and fired. The gobbler went down, and I tried to fire a second shot to seal the deal, but the shotgun jammed.
The gobbler got up and ran off. No blood was ever found and I'm not sure what happened. It should have been a very dead bird.
For the next few days Eric and I searched a lot of country but got very little response. I did get another opportunity, but once again, didn't close the deal.
That was enough for me, even though I still had several days to hunt and had a great calling partner with me.
But I had a great hunt and saw all kinds of game on this trip.
We saw five bull elk, antelope, mule deer, Coues whitetail deer, javelina, bald eagles and even the pair of resident osprey. We also enjoyed watching a pair of Mears quail, numerous squirrels and even a hog-nosed skunk.
I also got a chance to fish during a couple of afternoons. Fishing permits are $10 per day.
The San Carlos Apache Reservation is a great place to hunt and they are selling tags right now for the 2017 season.
If you'd like to experience some great turkey hunting like we did, give the San Carlos wildlife office a call at 928-475-2343.