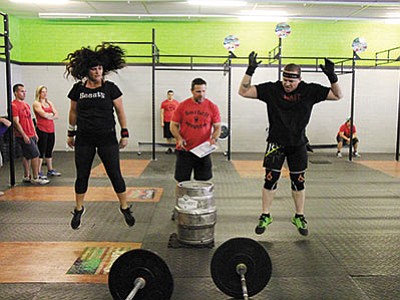 Originally Published: April 20, 2016 6:02 a.m.
Kingman Crossfit has moved into a much larger space on Beale Street, taking over what used to be the Salvation Army building.
Rebranded as the Kingman Health and Fitness Center, the gym's owners are hoping to expand their offerings.
Here, Jewelee Steed, left, and Dennis Miller compete in Barbell Mayhem 3 on April 9, which saw dozens of athletes from around the region visiting downtown Kingman.
The name has changed but the owners of Floyd's & Co. Real Pit BBQ and Wood-Fired Pizza remain the same.
Tammy and Bubba Floyd expanded what was formerly Redneck's Southern Pit BBQ into the former home of Beale Street Brews in the Central Commercial Building, which they've turned into a pizzeria.