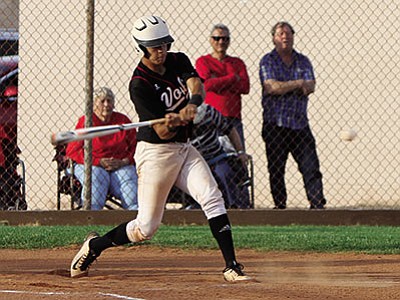 Originally Published: April 21, 2016 6:02 a.m.
KINGMAN - Capturing its sixth consecutive win, the Lee Williams High School baseball team is showing off its strength heading into today's Section V championship game against Chino Valley. The Volunteers took care of business Tuesday by downing Kingman Academy at Southside Park, 10-2.
No. 24 Chino (9-8, 5-0) has won five in a row and visits No. 15 Lee Williams (11-3, 5-0) with first pitch at 3:45 p.m. LWHS baseball coach James Mayfield expects the Cougars to come and play like they want the title.
"They're going to compete," the coach said. "We beat them twice at the Kingman tournament, but they're not the same team. They're on a win streak just like we are."
In order for the Volunteers to become Section V champions they have to be, well, the Volunteers.
"We're going to go out and work hard, be relaxed and do what we do," Mayfield said. "We're at the end of the season, so if we're not ready we're not going to get ready."
Lee Williams got a complete game from Paul Giglio in the win over the Tigers. Giglio pitched seven innings and allowed two runs, one earned, on six hits and three walks. He struck out six Tigers. A solid outing for the sophomore, though he wasn't completely satisfied with his performance.
"I kind of struggled in the beginning a little bit," Giglio said. "I hit a couple of batters and walked a couple of guys. I wasn't feeling it, but my defense helped out and made a lot of nice plays for me out there. They did a nice job to get out of those innings."
Academy (7-8, 1-4) took an early lead in the second inning with a run. Taylor Thomson hit a slow-roller back to Giglio and Donnie Tatham raced home. Giglio fired the ball to catcher Kenyon Rowley, but Tatham managed to get in under the tag.
That slim lead didn't last long. The Vols erupted for six runs in the third with three of them coming on a home run by shortstop Nate Cottrell over the center-field fence. From that point, the Vols steadily increased their lead, including a solo shot by Rowley in the fifth.
Left fielder Carter Rhoades, Cottrell, Rowley and center fielder Colin McMullen each had two hits.
As Lee Williams separated from the Academy, Giglio began to settle down on the mound.
"I just started throwing the ball over the top," Giglio said. "I felt like I was throwing in from the side a little bit. Just made the little adjustment and threw it in the strike zone to make them get hits."
Jeffry Chinyere and Thomas Easter each had two hits off of Giglio.
Academy hosts Lake Havasu (7-7, 2-2) in a non-section game at 5:30 p.m. today at Southside Park Field No. 2.