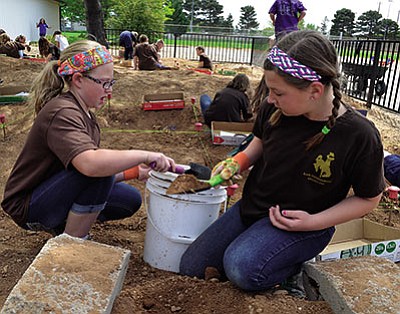 Originally Published: April 25, 2016 6 a.m.
KINGMAN - Twenty-six students reburied 'artifacts' that were dug up during a week-long Arizona history lesson at the Kingman Academy Intermediate School earlier this month.
Part of Barbara McLarty's 4th grade social studies class project was to locate a site (next to the school playground), dig up an artifact, chart its location on a small map and write a description of the item along with hand-drawn picture.
The lesson blended math, writing, history, art and research and the children didn't hesitate to go outside and get dirty.
Different classes rotate through the project during the course of the school year.
A ribbon cutting ceremony to recognize the creation of the interactive multidisciplinary sensory learning experience for children is at 10 a.m. May 9 at KAOL.