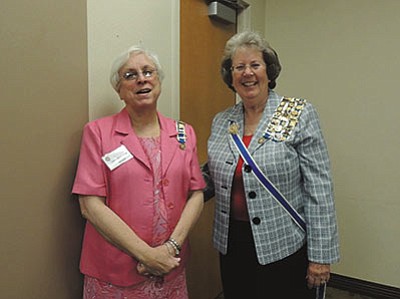 Originally Published: April 28, 2016 6 a.m.
Belles of St. Mary's: Once again the Belles step up to the plate - Mother's Day plate. The annual Baby Shower Reception. This is when parishioners are asked to bring baby supplies to all masses on May 7-8. These gifts will be distributed under the guidance of Nurse Betty M. through the crises pregnancy center to young mothers. Diapers are always a great need and all those adorable itty-bitty outfits will have us all "cooing" and remembering our own gifts from God. You all remember we have real bona fide softball players on the field every Tuesday, yes? The C.D.A. needs a tiny little boost to make our 20-pound goal - let's do it. Picnic plans are percolating nicely but we still need your participation. Also you are urged to help with the "Cathletics" set for June 6-10 - AKA vacation Bible school. Donna is waiting by the phone!
Branch 260 Fleet Reserve Association: Mohave County Branch 260 meets the second Saturday of each month at 1300 hours at VFW Post 2555, Golden Valley. FRA is a community of the sea services; U.S. Navy, Marines and Coast Guard. Your enlisted service in any of these branches - past or present, for a short time or for the long haul - is your passport to membership in an association that works hard for you and your family in your local community and in Washington, D.C. All Navy/Marine Corps/Coast Guard veterans are welcome to meetings. For more information, call Mike at 928-565-5811.
Cactus Cuties Lady Bikers Chapter: Interested in joining other lady motorcyclists with common interests of motorcycles and riding? There is a Women in the Wind-Cactus Cuties Chapter in the Kingman, Golden Valley, Bullhead City and surrounding areas! We meet the first Sunday of each month at 10 a.m. at Peggy Sue's Diner, 4305 Highway 68 in Golden Valley. Check out our website at www.womeninthewind.org or contact us at witwcactuscuties@yahoo.com or 702-624-1160. We are also on Facebook: Women in the Wind - Cactus Cuties Chapter.
The Cerbat Garden Club welcomes guests at its meetings on the second Wednesday of the month from September through June. The garden club meets from 10 a.m. until noon in the fellowship hall of St. John's United Methodist Church at 1731 Kino Ave. in Kingman. Our mission is to promote gardening, floral design, civic beautification, environmental responsibility and the exchange of information and ideas. Our May 11 meeting will feature local botanist Jan Emming speaking on water harvesting. The May 18 Gardeners' Day Out will be a trip to the arboretum in Flagstaff. For more information, call Sandy at 928-692-2778. Visit our Facebook page and website, www.cerbatgardenclub.org.
Cheap Shots Gun Club is a Christian gun club that has been shooting at the Mohave Sportsman Club, a.k.a. Seven Mile Range, for the last six years. Our members (men and women) are members of a number of churches in the area. We shoot on the first Saturday at 8 a.m. and have a meeting at Praise Chapel, room four, on the last Saturday of the month at 9 a.m. The members will also receive medals for first, second and third place at the end of the year in the following events: Pistol, rimfire and center fire rifle, center fire 200 yards scope, and 100 yards open sight. Rimfire, 75 yards with scope, and 50 yards open sight. For information, call Bill McCune at 928-716-2872.
Experimental Aircraft Association Chapter 765 held a Young Eagles rally. Young people ages eight to 17 were given a free ride in a small aircraft at the Kingman Airport. For many it was their first airplane ride. This allowed young people to experience the joy of flight. This year, 69 youth escaped the bonds of Earth and became young eagles. The children were given a brief lesson about aviation on the ground before their flight. We had six airplanes fly these young enthusiasts from around the area. These flights are made possible by and our thanks goes to our sponsors: Scott Preston of Preston Investments, Chris' Auto Body, Little Eagle Day Care and Pre School, Mohave State Bank, Nelson Insurance, Comworx and Air-Zona Aircraft Services, Inc.
Fraternal Order of Eagles: 4536 Patsy Dr. 757-8635. Bingo - Wednesday at 6:30 and Sunday at 1:30. Kitchen open. Friday night dinner & dance - public welcome, 5 p.m.-close. Friday night band is Texas Travelers. Time to kick up your heels. The Junior Order of Eagles is open for children ages 7 to 18 and they meet on the first and third Saturday from 10 a.m. to noon. Call Lisa Pinto at 303-8526 for more information. Jam Session on May 7 and May 21 from 2-4 p.m. For more information, contact Dick Penwarden at 928-247-7168 or 928-210-6141. Bring your musical talents and have some great fun.
Friday Duplicate Bridge: The results of the game on April 22 were: first place, Jim Blaschak and Wolfgang Vorbau; tied for second and third: Bryan Carlson and Donna Blaschak, and Trey Gordon and Bert Leenhouts. There is a game each Friday at 11:45 a.m. at the Kathryn Heidenreich Adult Center.
Friends of the Library - Kingman is looking for a few volunteers. We, as a group, do great things in support of our local library, but we need your help to do it. The first and foremost important thing we do is put on quarterly book sales to raise funds to support many special programs and projects otherwise not covered by a dwindling budget. There is no better way to support our community than to volunteer a few hours per month. The Friends is a great organization offering any and all interested people a good place to volunteer. The Friends meet monthly on the third Tuesday of the month at 11 a.m. Attendance is not mandatory but members are always welcome. Our annual meeting is in November and we encourage attendance. Membership dues are minimal; for adults 50 and over it is $5 per year. Your membership gets you a quarterly newsletter which includes a "book buck" to spend at any of our book sales. If you use all four book bucks, your membership ends up costing you $1. Can't beat that! You can get a membership form at the library or you can join online at www.kingmanlibraryfriends.org.
The Friends of the Golden Valley Library will meet at 1 p.m. May 7 at the Golden Valley Library located at 3417 N. Verde Road. Come and support your community library. If you want to be a Friend it's $5 a year for individuals and families and $10 for businesses. A lifetime membership is $100. Meetings are held the first Saturday of the month at 1 p.m., except for the summer. Applications are available at the GV library but you don't have to be a member to come. The library is open 10 a.m.-1 p.m. Saturday, 9 a.m.-3 p.m. Tuesday and noon-6 p.m. Thursday. The phone number is 928-565-2989.
Kingman Pinochle Club: The results for the April 23 games were: first place, Jim Robbins; second place, Rose Lesniewski; and third place, Charlene Graves. For more information about the club or to come play with us, please call Connie at 928-681-4934.
Kingman Powerhouse Kiwanis: We meet every Wednesday at noon at Calico's Restaurant, 418 W. Beale St.
Kingman Quilter's Guild: Our group meets at 9 a.m. every Wednesday at College Park Baptist Church, located at 1990 Jagerson Ave. in the Fellowship Hall. The cost is $1 and our gatherings are open to all as we stitch and quilt together. For more information, please contact Dorelle Carpenter. Her number is 928-718-1888. We look forward to seeing you.
Kingman Republican Women invite you to join us at our meeting at 11:30 a.m. Monday, May 2, at the Elks Lodge, 900 Gates Avenue. On the agenda: candidates running for Arizona House of Representatives Sam Medrano and Jennifer Jones. We will have time for questions and answers. Lunch will be soup, half a sandwich, salad and dessert. Coffee and iced tea included. Cost with lunch: $12. Meeting only: $3. Remember, you do not need to be a member of our club to attend the meetings; you may attend as a guest. Please feel free to invite others, too.
Mohave Arms Collectors Association: MACA's meeting is at 6:30 p.m. the last Thursday of the month. There will be no monthly theme for this meeting; any firearms are welcome - show off anything. The Mohave Arms Collectors are holding a drawing for a Lake Mead fishing trip courtesy of Don Martin of Striper Hunters operating out of Kingman and Meadview. They are selling contest tickets for $5 each or five for $20. The drawing will be held on April 28. The winning ticket will be drawn by invited guest Mohave County Sheriff candidate Rodney Head. Tickets are going fast, but are still available at the Gun Shop Inc., located at 4938 Stockton Hill Road. For more information or to purchase tickets, contact Don at 928-681-4867 or Keith Gilbert at 928-681-4476.
The Mohave Roaming Sams Club: Our April campout was at the Community Center in Wickenburg. Carol was our hostess and we enjoyed her plans for our activities which included a lot of walking and enjoying the local sights. We visited all of the trading posts within walking distance as well as most of the restaurants in the center of town. As we took in the sights, we especially enjoyed the beautiful blooming desert flowers in the area. Our next campout will be in Williams and the hosts are Rick and Jeanne Null. Contact them for details. Their number is 702-236-9462. If you like RVing and being part of a congenial group, get in touch with us. We welcome visitors any time to all of our campouts and other activities. The Mohave Roaming Sams chapter is part of the International Good Sam Club. If you are interested in finding out more about our chapter and future campouts, contact Jim Burtrum at 928-757-8072.
Thursday Party Bridge: The winners of the April 21 games were: first, Jerry Lipson; second, Gladys Smith; and third, Dorothy Jackson.
Wednesday Party Bridge: The winners for the April 20 games were: first, Vicky Greening; second, Carolyn Johnston; and third, Sharon Hays.
Women of the Moose: The installation of officers was held April 23. Past Deputy Grand Regent Kathryne Deshields installed Geneva DeVane as the incoming Senior Regent. Sandra Wormell is Jr. Past Regent. June Lawrence is the incoming Jr. Regent. Norma Booth will be the Secretary/Treasurer and Erma Lorion will serve one more year as the Recorder. The Loyal Order of Moose installed Dale Cline as Governor, Thomas Steinberger as Jr. Governor, Cal Wormell will serve another year as Treasurer, Robert Tremain as Trustee and Richard Schott will continue as Administrator. The ladies served a complimentary buffet after the ceremonies. The next regular meeting will be at 6 p.m. Wednesday, May 4, with a social hour to follow. Don't forget Bunco at 1 p.m. on the second and fourth Wednesday. Call 928-279-6168 for more information or a ride to a meeting.
More like this story