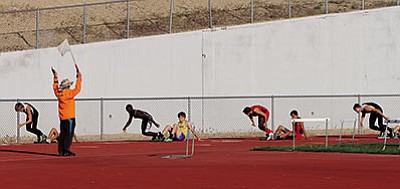 Originally Published: April 28, 2016 6 a.m.
KINGMAN - The track season has come down to the wire and the final meet for the Kingman Bulldogs and next-to-last meet for Lee Williams to gain entry into next week's Division III State Championships in Mesa was the six-team Colorado River Region Championships Tuesday at LWHS.
Lake Havasu won the boys and girls meets to claim the CRR titles. The Knights scored 214 points to secure the boys victory. Lee Williams (181.5) was second, Mohave (72) third, Kingman (42) fourth, Parker (10) fifth, and River Valley (1.5) came in sixth.
The Lake Havasu girls won that meet with 234 points. Lee Williams (188) was second, Mohave (48) third, Kingman (43) fourth, and River Valley (7) finished seventh.
Kensington Penny won the shot put for the Volunteers with a qualifying mark of 44 feet, 8 inches. Kael Juelfs made it a one-two Lee Williams finish with a heave of 43-1.
Peyton Cardiff took the 400 meters with a time of 2 minutes, 5.57 seconds.
Brendon Allred won both the 1600 and 3200. Allred captured the 1600 in 4:53.31 and the 3200 in 10:51.34.
Lee Williams swept first, second and third in the 300 hurdles. Nicholas Bauer (43.39) took first, Zack Tempert (43.89) was second, and Cameron Ott (44.02) came in third.
The Vols won two of the three relays. The 4x400 team (Chris Marcus, Enzo Marino, Devan Salmon, Justin Sturgill) took first in 3:35.56, and the 4x800 squad (Allred, Andrew Herrera, Cayden Robles, Cardiff) finished ahead of the field in 8:58.78.
Giancarlo Narvarte earned two wins for Lee Williams. Narvarte (38-6) won the triple jump and he took the high jump at 5-10.
Kingman's Mario Barocio led the Bulldogs with their highest finish. Barocio (15.91) took second in the 110 high hurdles.
The Lee Williams girls came away with five wins, including Trysta Rucker's win in the 100 hurdles with a qualifying mark of 16.89. Teammate Lillian Rapp (17.01) was second, and Kingman's Courtney Mossor (18.25) finished in third place.
Rucker (51.11) also won the 300 hurdles and teammate Melisa Davis (53.04) was second.
Sadie Snay captured two wins for the Lady Vols in the shot put and discus. Snay took the shot put with a heave of 29-7 and the discus with a throw of 97-05. Lee Williams's Arnosha Scott (29-3) was second in the shot put, and Kingman's Kim Carroll (27-11) was third. Carroll (85-3) was second in the discus, and Scott (83-3) was third.
Madi Arave gave the Lady Vols their fifth win with a leap of 15-3.5 in the long jump.
Lee Williams competed a last time before the state meet at the Viper Classic in Buckeye Wednesday. Results were not available by deadline.