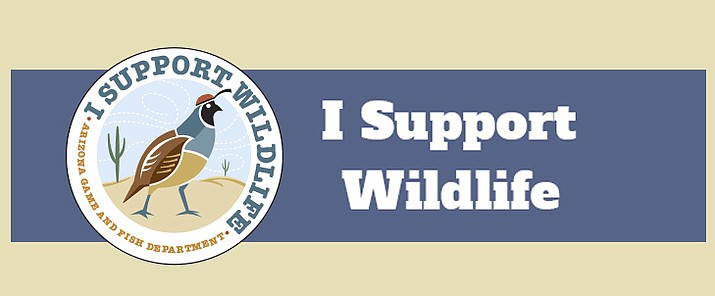 Originally Published: August 2, 2016 5:57 a.m.
KINGMAN – In today's world it is understood that not all of our citizen conservationists are consumptive users of wildlife.
That means that most of the people in Arizona and in America do not hunt, though the majority of them do not object to it.
That doesn't mean, however, that the non-consumptive users of wildlife, that includes but are not limited to birdwatchers, photographers, campers and wildlife watchers, don't have any responsibility for the management of the state's most precious assets.
It costs money, and a lot of it, to manage Arizona's multitude of wildlife that are not hunted.
These include birds, reptiles and mammals.
Everything from bald eagles to black-footed ferrets has to be properly managed to keep their populations healthy. To do that, the agency charged with managing the state's wildlife, both hunted and non-hunted, needs your help.
The Arizona Game & Fish Department is recognized as one of the most forward thinking wildlife agencies in America.
I think most can agree that they have done an admirable job in balancing the needs of the state's wildlife.
But the agency is in trouble. The challenges that they face in the name of conservation including funding of these non-game programs has gone up.
A new program called I Support Wildlife has been specifically designed for those who are not hunters to help in bridging the gap the department faces with these new challenges.
According to the department, "a one-year membership lets you explore Arizona's unique natural heritage while taking action to preserve our wildlife legacy for the future."
For just $25, a conservationist gets access to the newest premium version of the Recreational Access Across Arizona (RAA) mapping application.
This map, according to the AZGFD, "is a tremendous tool whether or not you are documenting your favorite camping spots or birding areas or just exploring Arizona."
Another benefit is that you will receive a subscription to the department's award winning bi-monthly magazine, Arizona Wildlife Views. This magazine is filled with awesome photos and stories of both scenery and wildlife.
If you are an angler, your subscription will also garner you an up-to-date fish stocking report that is sure to help in planning your next fishing trip.
As a member of I Support Wildlife you will receive a window sticker for your vehicle that identifies you as a conservationist who cares about the future of wildlife in Arizona.
To join I Support Wildlife, go to: https://www.azgfd.com/ISupportWildlife
It's an investment for future generations to continue to enjoy our state's wildlife and the habitats they need to prosper and thrive are in place.