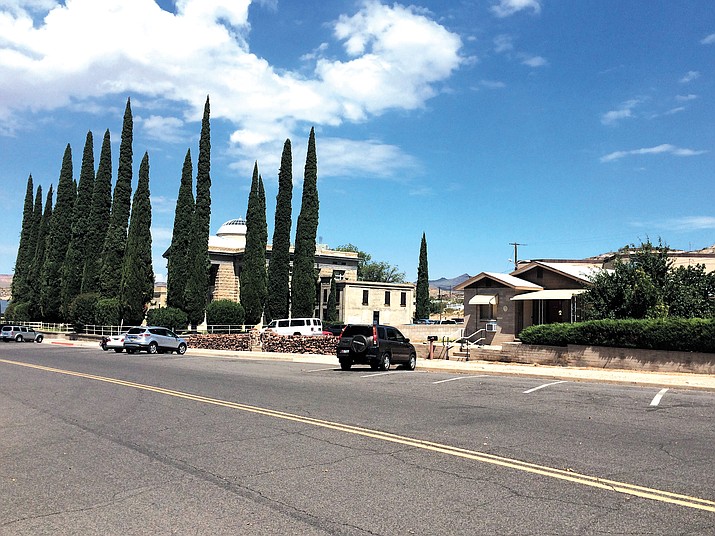 Photo by Aaron Ricca.

Originally Published: August 4, 2016 6 a.m.
KINGMAN – A central court facility may be added to the downtown landscape in the near future.

The Mohave County Board of Supervisors passed in a 4-1 vote Monday to contract Phoenix-based Dick & Fritsche Design Group to begin architectural services for the design and construction of a new Mohave County Superior Courthouse. Plans include the design and construction of a four-story, 60,000 square-foot building in the current parking lot between the Mohave County Courthouse and Trinity Episcopal Church on Spring Street. A remodel of the current historic courthouse is included in the contract.
Architectural services will include design, survey, inspection and development for construction, fire suppression and technology for the new court building and courthouse remodel. The project has a $2.2 million price tag budgeted from the quarter-cent sales tax originally approved by county supervisors in February.

"We'll all be on one campus," said Superior Court Administrator Kip Anderson. "That'll be nice."
A new courthouse would provide significant improvements such as a secure central public entrance, a connecting structure between the two courthouses, larger courtrooms to accommodate witnesses, family members, jurors and media and a sally port and holding quarters for the secure transport and holding of inmates in court facilities.

Security was one of Anderson's major concerns.
The sally port would provide a secure location for the transfer of inmates between the Mohave County Jail and courthouse. Sheriff's deputies transporting inmates currently park on Pine St. behind the courthouse and escort them inside.
Two to three deputies are needed to transport inmates, usually in one vehicle. Sometimes multiple vehicles are used, taking deputies off the beat. Anderson was concerned about the possible but unlikely event of an attack on or escape of an inmate being transferred to and from the courthouse.
Inmates are often waiting in public hallways, another security concern for court employees, witnesses, family members and defendants. A sally port and holding quarters would minimize risks.
"We can better utilize manpower," Anderson said. "There's better safety for the deputies and certainly the court."
A new building would house the superior court, clerks and staff. The Kingman and Cerbat justice courts, clerks and staff would be relocated to the remodeled courthouse, using courtrooms currently occupied by Superior Court judges Steven Conn and Billy Sipe. The larger upstairs courtroom could be used for high-profile cases.
A $45 million Law and Justice facility was proposed in 2006. It would've been built near the county administration building on West Beale Street and housed both superior and justice courts, county attorneys, public defenders, and the probation department. Those plans were scrapped due to a lack of money.
Anderson said the city had concerns of leaving the courthouse empty, adding to the already dilapidated downtown district.
"The city was anxious for us to build here," Anderson said. "If it was moved to the county site, it was likely nobody would move in and it would sit vacant.
Parking will also be a consideration for architects. Anderson said they'll try to find a way maximize parking space on streets near the courthouse.
District 3 Supervisor Buster Johnson was the sole dissenter in Monday's vote.
"We did not have enough money to pay off the jail and pay for this new court. It'll put the county in a bad financial situation," he said.
He felt funding the animal shelter, coroner's office and a sheriff substation to service both Lake Havasu City and Ft. Mohave were more important.
Anderson is now waiting for the purchase order and notice to proceed to go through administrative channels. That should take a week. Once they get to Dick & Fritsche Design Group, architectural planning will begin and should take about 14 months.
"That's what we're focusing on right now," Anderson said.