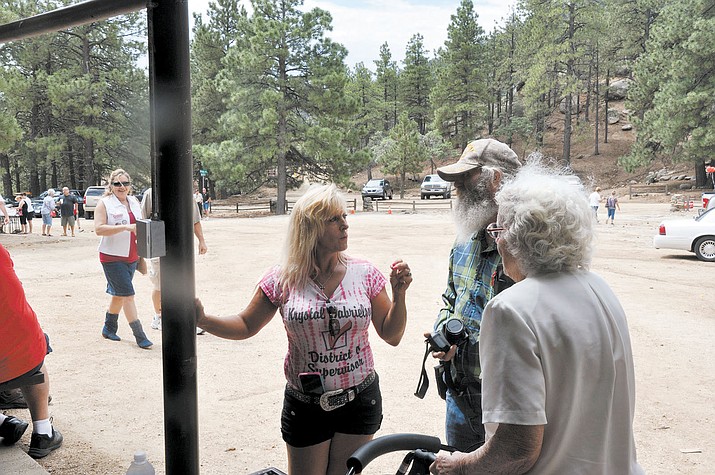 Photo by Butch Meriwether.
Originally Published: August 5, 2016 3:21 p.m.
The thunderstorms that passed through the county Friday night and early Saturday did not dampen the spirits of the people who showed up for the 72nd Annual Republican Picnic. An estimated 200 to 300 enthusiastic participants, sporting campaign shirts for their favorite candidates, converged on the Mohave County Park Saturday nestled high in the Hualapai Mountains. Many of the candidates had informational booths and tables set up to distribute campaign literature and give a chance for them to answer questions from the residents in attendance. During the picnic, visitors were treated to a meal served by the Kingman Chophouse and listened to various motivational speakers and candidates. It looked like "homecoming week" by the way many of the people visited with each other catching up on what they have been doing since last year's picnic. Mohave County District 4 hopeful Krystal Gabrielson (above) talks with two residents. Gabrielson, Rick Armstrong and Mervyn Pitchfork Freedom are challenging incumbent Jean Bishop.