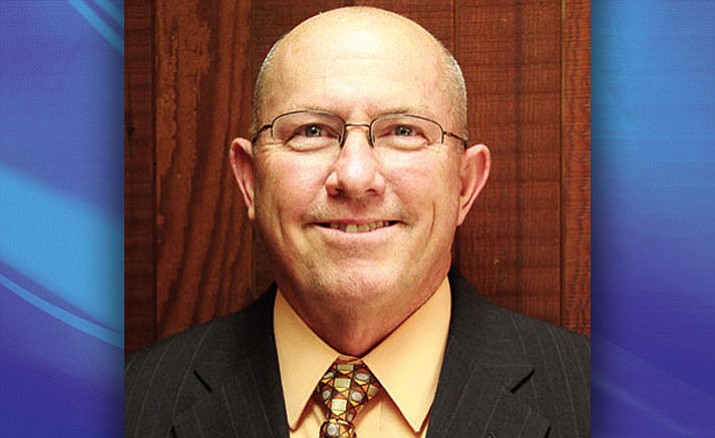 Originally Published: August 7, 2016 5:08 a.m.
KINGMAN – Working to keep the taps flowing, the economy purring, and the reestablishment of a property tax are Councilman Larry Carver's priorities if voters retain him this election.
"I know advocating for a property tax could cost me the election," Carver said. "But I've supported asking voters to bring back the property tax in the past and I'm going to continue asking them. This is the only way we are going to stabilize revenues."
Carver said convincing voters to tax themselves for the first time since 1980 was always going to be a tough sell. The Council failed to agree on how much of a levy to seek and what it would be used for late in 2015 in early this year. The effort essentially fizzled last November when city budget analyst Diane Richards was caught after allegedly embezzling more than $1 million. A wholly embarrassed Council quickly abandoned any effort to institute the tax.
Carver was reluctant to name any accomplishments he achieved in his first term, saying with a chuckle, "It's difficult to describe an accomplishment in government." But the retired state Highway Patrol trooper and current financial adviser was instrumental in the development of Kingman's prohibition against using handheld electronic devices while driving.
"I think that ban is going to save a lot of lives," he said.
Carver has also spent much of his first term working with members of the city's Youth Advisory Commission. "I'm always reminded these are some of the people who will be on the Council in future years."
Juggling his desire to bring city employees up to a fair wage – they went seven years without a meaningful pay increase – and protect taxpayer money at the same time has been another priority.
"The first two years, I don't think I did much of anything but listen and learn," he said. What Carver said he has learned could fill a book. "The answers aren't as easy as you would like," he said. "It seems common sense is hard to find sometimes because of the rules."
Here's his take on the three major issues for this year's 2016 City Council election.
Kingman Crossing: "We need the interchange and we need to sell the land to bring businesses that would boost our sales tax, but we need the interchange regardless. The freeway divides this town and it's difficult to get around, so the interchange is needed. It's a public safety issue."
Carver also noted the city's unrelated goal of punching a hole under Interstate 40 at Kingman Crossing would cost $9.5 million, but it would save about $7.1 million in the cost of the interchange, which would make selling the project to a developer that much more attractive.
"This is a big project. It will help the hospital (Kingman Regional Medical Center wants to expand its Hualapai campus). It will help with public safety and businesspeople and residents."
Carver said the proposed Rattlesnake Wash interchange also is necessary because it would provide a direct route to the Kingman Airport and Industrial Park, but "we don't want to leapfrog development," he said. "Without these, growth will be limited."
Kingman Crossing would help Kingman Regional Medical Center expand, and it could help bring jobs to the Kingman Airport and Industrial Park.
The Council is split over the kind of job the Kingman Airport Authority has done in attracting bigger employers to the city. Carver belongs to the side that believes the authority has not done nearly enough for the city.
"We have air, land and rail to utilize out there," he said. "There's been a public outcry over the authority and the question is, 'What are they missing? What are we missing?'"
What's missing is a contract with a reasonable lifespan. In order to give businesses that invest in the industrial park assurances that the land they lease will be honored, the Council a decade ago approved a long-term contract that expires in 2028 – but with an automatic 25-year renewal that will keep it in effect until 2053.
"That's a long time for the city to have no control," said Carver, who is one of many people in the community who want performance measures written into the agreement, something the authority has refused to do.
"They keep blaming it on the Great Recession," said Carver. "That's a great excuse for not bringing in new employers, but did the recession also keep them from cleaning up the place?"
Of course, the future of the airport is tied to the future of Kingman – where a dramatic increase in massive farming operations threatens to empty the Hualapai Valley Basin.
"Water is always a big issue," he said. "But now, it's time to raise the red flag. Let's do something now to fix it. They can grow their crops, but there won't be anyone around to buy it. We need to meet with the state and the county and fix this problem."