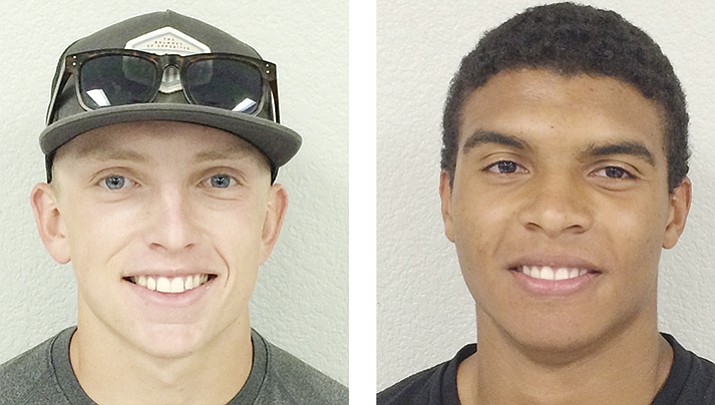 Originally Published: August 9, 2016 6:02 a.m.
KINGMAN – Senior running backs Clayton Holloway and Jordan McDowell-Seybert have always played against older athletes during their careers at Kingman Academy High School. The duo rushed for a combined 1,467 yards last season against those older and bigger opponents, and they're more than ready for things to be even.
"Being the same age as the other guys against us should be pretty good competition," Holloway said. "It's kind of nice to be at the top knowing this is our year and time for us take charge."
Along with age equality, McDowell-Seybert (5-11, 195) believes the familiarity between the Tigers alongside the vast number of snaps they've taken together on the field gives Kingman Academy an advantage.
"It's a level playing field now with experience, too," he said. "We'd go in with a certain knowledge of things, but now we just know it. We knew we could compete, but we knew things weren't right like the difference in strength."
Academy went 1-9 in Division IV last year and move down two levels into the restructured AIA 2A Conference. The combination of Holloway (5-8, 170) and McDowell-Seybert is going to give their opponents headaches and not just because of their different running styles. Holloway is a slasher and once you see his back, it's too late. McDowell-Seybert runs with power and makes his cuts at the right time to make would be tacklers miss.
Both running backs have to rely on the offensive line, led by two-time Miner All-City lineman Dillon Zorn (5-9, 185), and both are pleased with the progress that unit has made.
"I'm feeling really confident about the line this year," McDowell-Seybert said. "They've gotten bigger and stronger. Zorn has always had our backs and he's going to be our lightest guy. That's great for us."
Academy coach Dan Stroup said the nearly 1,500 yards rushing the duo had last year came mostly because of their own athleticism. He's excited to see what they can do with the addition of a line that can help alongside Holloway's and McDowell-Seybert's physical abilities.
"And they're going down against kids who may have a hard time tackling them in the open field," the coach said. "They didn't have the confidence last year with the line, but this year they have it."
Stroup also believes the improved passing game that includes three-year starter Kekoa Makaiwi-Stroup at quarterback for his junior season, and the receiving corps of senior Andrew Quick, juniors Nate Carter and Donnie Tatham, and freshman Hayven Potter, should bolster the run game as well.
Academy wrapped up its first week of practice Saturday and began Week 2 Monday. Stroup said the Tigers came out strong but began to falter in their conditioning toward the end of the week.
"But that's what the first week is for," the coach said. "We'll come back this week and they'll be raring to go. They'll get better."
Kingman Academy opens the season against Bourgade Catholic at 2:30 p.m. Aug. 26 at the Walkup Skydome in Flagstaff.