Originally Published: August 9, 2016 6 a.m.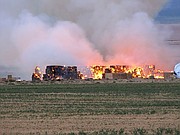 KINGMAN – The Northern Arizona Consolidated Fire District #1 responded to a reported hay fire Sunday at 5:56 p.m. at Kingman Farms, located on North Stockton Hill Road at mile marker 32.5.
Fire crews arrived on scene and found several rows of hay on fire, and spreading quickly. A fire break was made in the middle of the hay rows, and the fire was contained.
No injuries were reported during the incident, and the estimated property loss was approximately $80,000. The cause of the fire is undetermined.
The NACFD responded to a request for mutual aid to respond with Lake Mohave Rancho Fire Department.
Requests for additional information regarding this incident may be directed to Fire Chief Patrick Moore at 928-757-3151.