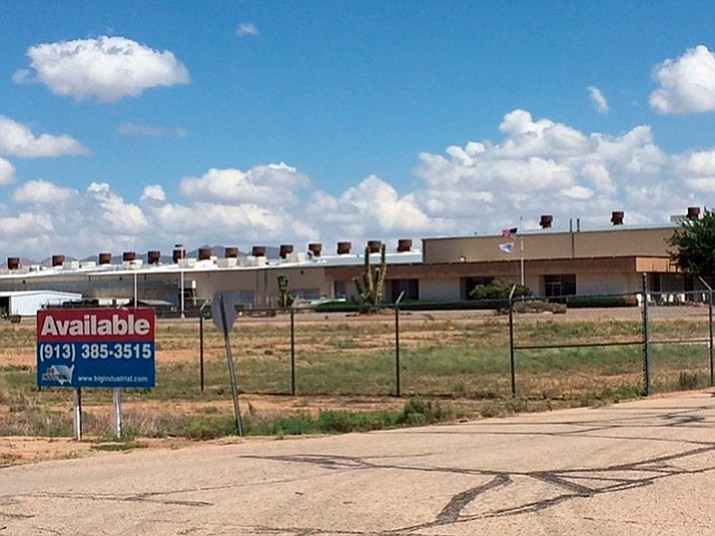 Photo by Bob Leal.
Originally Published: August 10, 2016 6:03 a.m.
KINGMAN - Big Industrial, LLC, a national industrial real estate firm based in Prairie Village, Kan., has purchased the 250,000-square-foot Southwire building at the Kingman Airport and Industrial Park.
Big Industrial's plan for the facility, which has been shuttered for more than seven years, includes a complete renovation and upgrade while partnering with the Kingman Airport Authority economic development staff in a national-international industry recruitment effort.
"Big Industry has been here since 2001. They're continuing to expand their presence," said Robert Riley, director of economic development for the Kingman Airport Authority, a not-for-profit corporation which has 4.5 million square feet of manufacturing and warehousing space at the airport and industrial park.
"When they're done, it'll be a property that is ready to go," said Riley. "And I know they are already working with potential tenants."
The building, erected in 1969-70, originally housed General Cable and then Southwire, said Riley.
One of the positives, according to Riley, was that the facility went on the market in January. "I believe that's pretty positive," said Riley. Workers have already begun the upgrade, he said.
"It's very important," said Todd Mendon, an associate with Big Industries. "We've had a long association with the Kingman community.
"We've had a long history of success and we plan to continue," said Mendon. "We're well underway." Parts of the building will be ready in a couple of weeks, and the entire renovation will be done by September, Mendon said.
"We appreciate the support of the local community and county economic development folks," said Mendon. "We value their association and appreciate their efforts."
Mendon said Big Industry was happy for the opportunity to bring jobs into the community.
The recent acquisition brings Big Industries to around 750,000 square feet in the industrial park, said Mendon. Tenants include Cascades Tissue Group, Southern Finishing, Love's Tires and Scott Industries.
Founded in 1998, Big Industries currently owns and manages in excess of 6 million square feet nationally and is actively seeking acquisition and joint venture opportunities.