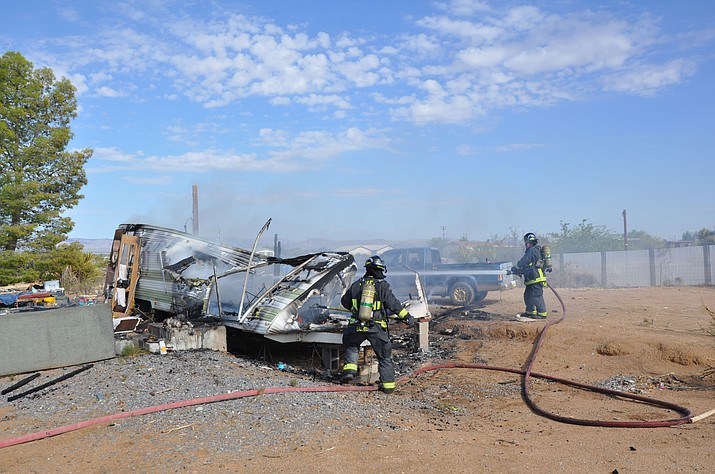 Photo by Butch Meriwether.
Originally Published: August 10, 2016 6 a.m.
GOLDEN VALLEY – Golden Valley Fire District had its resources stretched to the fullest at about 9 a.m. Aug. 3, when personnel responded to three separate incidents at the same time.
Firefighters from Stations 11, 13, Duty Officer Boyd Lewis and the water tender, responded to a report of a structure fire in the 4100 block of Abrigo Drive; Station 12 responded to a two-vehicle accident at Mile Post 41 on I-40; and Captain Dave Martin responded to a medical emergency call.
When the firefighters arrived at the structure fire, the 35-foot-travel trailer was completely engulfed in flames and the fire had spread to a small Dodge pickup that was parked near the trailer. Firefighters extinguished the trailer and truck fires, but the trailer that had been used as a primary residence was completely destroyed.
According to Captain Boyd Lewis, no one was home when the fire started, and the cause and exact origin of the fire is currently under investigation.
Station 12 firefighters responded to the I-40 vehicle accident, but while heading to the scene, they were cancelled so they returned to their station. Because Station 12 personnel became available, there was no need for GVFD to request support from any other fire department under a mutual aid agreement.
Captain Dave Martin responded to a medical emergency call on Mayan Drive that runs parallel to Oatman Highway for someone who was having trouble breathing. After being treated at the scene by Captain Martin, the person was transported via ambulance to Kingman Regional Medical Center for evaluation and further treatment.