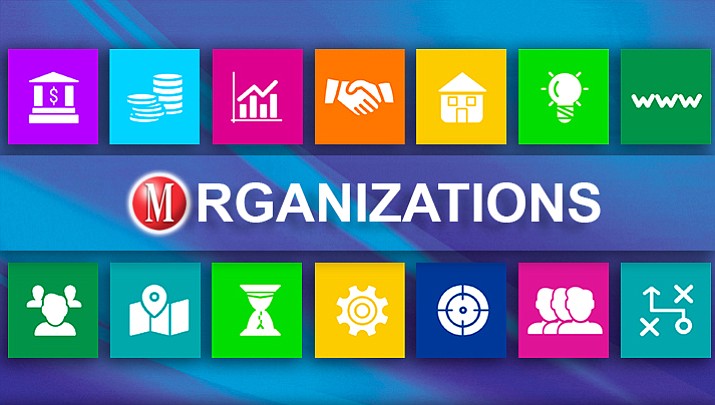 Originally Published: August 11, 2016 1:49 p.m.
ABBID Grotto is a Masonic organization that supports the Humanitarian Foundation. They provide dental and medical aid for children with special needs. The Grotto is a place where Master Masons can meet for fun and refreshment with their ladies and friends. All Master Masons are invited to join. We meet on the first Wednesday of the month at 6 p.m. at 2985 John L Ave. on the corner of Bank St. For more information call Charlie at 928-529-2327 or Ben at 928-753-8364.
American Legion Family of Post 14: Legionnaires will meet tonight at 5:30 p.m. Some folks call it mazetti, some marzetti, but however you say it, it's delicious and it's being served at this week's Friday Night Out along with broccoli salad, garlic bread and rainbow sherbert for $6 a plate from 5-7 p.m. A memorial service for Legionnaire Ida Fay Breazeale will be held on Tuesday, Aug. 16 at noon, at the post home. The deadline for the September/October newsletter is 3 p.m. Wednesday.
Branch 260 Fleet Reserve Association: Mohave County Branch 260 meets the second Saturday of every odd month at 1300 hours at VFW Post 2555, Golden Valley. Every even month we meet in Bullhead City at the same time at VFW Post 10005. FRA is a community of the sea services; U.S. Navy, Marines and Coast Guard. Your enlisted service in any of these branches – past or present, for a short time or for the long haul – is your passport to membership in an association that works hard for you and your family in your local community and in Washington, D.C. All Navy/Marine Corps/Coast Guard veterans are welcome to meetings. For more information, call Mike at 928-565-5811.
Brunch Bunch Motorcycle Riders: The Brunch Bunch has no dues, no officers, no paperwork, no egos – we just ride Sundays and Wednesdays and have fun with like-minded friends. Meet at I-40 Exit 48 Chevron, 777 W. Beale St. at 7:30 a.m. Kickstands up at 8 a.m. For questions or information, contact Harley at 928-530-2555 or visit us online at harley3787.wix.com/brunch-bunch-riders.
Cactus Cuties Lady Bikers Chapter: Interested in joining other lady motorcyclists with common interests of motorcycles and riding? There is a Women in the Wind-Cactus Cuties Chapter in the Kingman, Golden Valley, Bullhead City and surrounding areas! We meet the first Sunday of each month at 10 a.m. at Peggy Sue's Diner, 4305 Highway 68 in Golden Valley. Check out our website at www.womeninthewind.org or contact us at witwcactuscuties@yahoo.com or 702-624-1160. We are also on Facebook: Women in the Wind – Cactus Cuties Chapter.
The Cerbat Garden Club will not be meeting in the summer. We'll see you at our next meeting on Sept. 14 when Denise Neath will give us an update on the progress of the Dig-It Community Garden. Enjoy the summer and your garden! For more information call Sandy at 692-2778. Visit our Facebook page and website www.cerbatgardenclub.org.
Cheap Shots Gun Club is a Christian gun club that has been shooting at the Mohave Sportsman Club, a.k.a. Seven Mile Range, for the last six years. Our members (men and women) are members of a number of churches in the area. We shoot on the first Saturday at 8 a.m. and have a meeting at Praise Chapel, room four, on the last Saturday of the month at 9 a.m. The members will also receive medals for first, second and third place at the end of the year in the following events: Pistol, rimfire and center fire rifle, center fire 200 yards scope, and 100 yards open sight. Rimfire, 75 yards with scope, and 50 yards open sight. For information, call Bill McCune at 928-716-2872.
Fraternal Order of Eagles: 4536 Patsy Dr.; 757-8635. Bingo on Wednesday at 6:30 p.m. and Sunday at 1:30 p.m. Kitchen open. Friday night dinner is spaghetti and meatballs. Dance to follow – public welcome, 5 p.m. to close. Friday night band is "The Kristy Thompson Band". The Aerie meetings are the first and third Thursday at 7 p.m. The auxiliary meetings are the second and fourth Tuesday at 7 p.m. Love cooking? Volunteers are needed for the Eagles kitchen.
The Junior Order of Eagles is open for children ages 7 to 18 and they meet on the first and third Saturday from 10 a.m. to noon.
Jam Session is back on Aug. 20 from 2-4 p.m. The public is welcome. For more information contact Dick Penwarden at 928-247-7168 or 928-210-6141. Bring your musical talents and have some great fun.
Friday Duplicate Bridge: The winners of the Aug. 5 games were: first, Trey Gordon and Bert Leenhouts; second, Gretchen Carpenter and Paul Greening; third, Kay Klaus and Jerry Lipson; and fourth, Bryan Carlson and Donna Blaschak. We play at the Elks Lodge at 900 Gates Ave. The game starts at noon, leaving time for lunch at 11 a.m.
Friends of the Library – Golden Valley will resume meetings at 1 p.m. on Sept. 3 at the Golden Valley Library, located at 3417 N. Verde Road. Come and support your local community library. Find out the exciting plans being brought up and have your say (nicely – remember, we are "Friends").
The next book sale will be in October. Donations are welcomed. Campaign for the December elections meeting if you'd like to be an officer. If you want to be a Friend it's just $5 a year for individuals and families and $10 for businesses. A lifetime membership is $100.
Meetings are held the first Saturday of the month at 1 p.m. except for the summer. Applications are available at the GV Library but you don't have to be a member to come. The library is open Saturday from 10 a.m. to 1 p.m., Tuesday from 9 a.m. to 3 p.m. and Thursday from noon-6 p.m. The phone number is 928-565-2989.
Friends of the Library – Kingman is looking for a few volunteers. We, as a group, do great things in support of our local library, but we need your help to do it. The first and most important thing we do is put on quarterly book sales to raise funds to support many special programs and projects otherwise not covered by a dwindling budget. There is no better way to support our community than to volunteer a few hours per month. The Friends is a great organization, offering any and all interested people a good place to volunteer. The Friends meet monthly on the third Tuesday of the month at 11 a.m. Attendance is not mandatory but members are always welcome. Our annual meeting is in November and we encourage attendance. Membership dues for adults 50 and over are $5 per year. Your membership gets you a quarterly newsletter which includes a "book buck" to spend at any of our book sales. If you use all four book bucks, your membership ends up costing you $1. Can't beat that! You can get a membership form at the library or you can join online at www.kingmanlibraryfriends.org.
Help Animal Lives Today (HALT): Puppies are needed. If you have a litter of puppies six to nine weeks old (but no chows, pit bulls or Rottweilers) we will gladly take them off your hands to find them the most perfect homes. Most will be transported to the Helen Woodward Animal Center in Rancho Santa Fe, Calif. They have already accepted over 5,500 pets from us over the last 15 years. We will have them vaccinated, dewormed and supplied with a health certificate before the transfer. Please call HALT at 928-692-8940 and try to plan in advance. Thank you.
Kingman and Mohave Manufacturing Association (KAMMA): Regular membership meetings are held every third Monday of every month from 1-2:30 p.m. at the Kingman Airport Authority Building, 7000 Flightline Drive. The meetings are open to the public. Visit www.mohavemfgassociation.com/events for more information.
The Kingman Area Toastmasters Group will be holding meetings from 5:45-6:45 p.m. the first and third Thursday of each month in the Hualapai Conference Room at the Kingman Regional Medical Center. Visit the website at kingman.toastmastersclubs.org, email contact-3906294@toastmastersclubs.org or call 928-224-8329 for more information. The club's mission is to provide a supportive and positive learning experience in which members are empowered to develop communication and leadership skills, resulting in greater self-confidence and personal growth. Joining Toastmasters will help you: become a better public speaker, overcome public speaking fears, "practice" presentations for other audiences, and gain the confidence and courage to lead. Have fun while learning, networking and practicing new skills!
Kingman AZ Computer Users Group (KACUG): We invite you to join us from 2-4 p.m. this Sunday, Aug. 14 at the Kathryn Heidenreich Adult Center, 1776 Airway Ave. in Kingman. We are now set up with a wireless network for those who wish to bring their laptops.
KACUG annual dues are $12 per person; you may pay at our meeting. All persons with an interest in computers are welcome, experience not necessary. The new user is equally welcome along with the highly skilled user.
At the meeting there will be a lecture followed by a question and answer session about any problems you might be experiencing with your computer.
The Kingman Community Foundation supports medical and dental aid for children with special needs. The humanitarian foundation is our primary beneficiary. They meet on the first Thursday of the month at 10 a.m. at 2985 John L Ave. Starting Aug. 6, they will be holding an auction of consigned items from 6 p.m. to closing. Items to sell may be dropped off Tuesday, Wednesday and Thursday from 9 a.m. to 4 p.m. and on Saturday afternoon. No buyer's fee or sales tax charged. Currently bingo is held every Friday at 6:30 p.m. on the corner of John L and Bank St. For more information call 928-757-1704.
Kingman Pinochle Club: The results for the Aug. 6 games were: first place, Jan Crosier; second place, John Goryl; and third place, Pat Crow. For more information about the club or to come play with us, please call Connie at 928-681-4934.
Kingman Powerhouse Kiwanis: We meet every Wednesday at noon at Calico's Restaurant, 418 W. Beale St.
Kingman Quilter's Guild: Our group meets at 9 a.m. every Wednesday at College Park Baptist Church, located at 1990 Jagerson Ave. in the Fellowship Hall. The cost is $1 and our gatherings are open to all as we stitch and quilt together. For more information, please contact Dorelle Carpenter. Her number is 928-718-1888. We look forward to seeing you.
Kingman Railroad Museum: Whether you have seen the Museum's three model railroads or not, you will want to come by and see the remodeling that is going on. While members are in the process of expanding the HO scale and N scale layouts, both remain in operation. Bring your kids, grandkids and rail fans because we have something for them all. The BNSF freight trains speed by the museum's floor-to-ceiling viewing windows and our displays and photo gallery provide a glimpse into railroading history. For the kids, there is the hands-on Thomas the Train layout. Children under 12 are free with adult admission of $2. The museum is located in the restored Santa Fe Railroad Depot on Route 66 and is open Wednesday through Sunday from 10 a.m. to 4 p.m. For more information call us at 928-718-1440, visit our website www.kingmanrailroadmuseum.org or see us on Facebook.
The Kingman Social Club is holding its No Host Lunchgeon at the Elks at 11 a.m. on Aug. 16. The speaker will be the board explaining what each job consists of and what a person is expected to do if elected to an office.
The Kingman Social Club is an organization open to all of Kingman and surrounding areas. The club does various fundraisers during the year and donates the money to different organizations who help the less fortunate. We are having a fundraiser at the auction on Route 66 on Aug. 20.
The Dine Out will be at Sakura at 5 p.m. on Aug. 27. Reservations can be made at the meeting or contact Vi Butler at 928-377-2010. For further information about the Kingman Social Club and its activities, contact Bob Whitsell, President at 928-897-1055.
Kingman Tennis Club: We have evening walk-in tennis at 5 p.m. on Mondays and Wednesdays at Centennial Park. Morning walk-in tennis begins at 8 a.m. at the tennis courts in Centennial Park. The cost is $2 for members and $3 for non-members. Wear tennis shoes and bring a racquet. Our club provides the tennis balls and pays the court fees. We will place you in a doubles match based on your skill level. Beginners are welcome and we will assign someone to help you get started. For more information, contact Brooke Fix at 928-753-5684.
Korean War Veterans of Mohave County: For all Korean War and Korean service veterans. Meetings are the first Saturday of each month at 1 p.m. at VFW Post 10386, 3036 John L Ave. in Kingman. We are always looking for new applicants. Just bring your DD214 and we will do the rest. We look forward to seeing you. For further information, please call 928-757-0492.
Living the Loss of Your Child Christ Care Grief Group: We meet on the first Wednesday of each month at 6 p.m. in the Golden Valley Baptist Church, 100 S. Higley Road, Golden Valley. The meetings are open to those who have lost children or loved ones. The meetings are to share, show compassion and support, and encourage personal Christian growth during this most difficult time in our lives. Our main purpose is to care for others as Christ cares for us. For more information, contact Cynde Anthony at 928-856-0847 or Angie Berg at 928-716-9590.
Meadview Library Book Discussion Group: Meetings are at 10 a.m. on the third Friday of every even-numbered month (February, April, June, etc.) at the Meadview Library. The purpose of the discussion group is to promote reading and have a mature, interactive discussion with other readers about the chosen book. Meetings are one hour long. Stop by the Meadview Library and check out our next book selection to read and discuss, read the book at your leisure, then come to discussion.
Mohave Amateur Radio Club: We are an active group which is dedicated to promoting the amateur radio hobby. We offer testing sessions for all classes of amateur licenses and upgrades. We sponsor an annual Ham Fest as well as an annual Field Day event. The club provides communications for special events when needed. Some of our members are involved in the "Skywarn" program (mobile weather reporting to NOAA). Some members are involved in "ARES" (Amateur Radio Emergency Services). Amateur radio is a vast hobby covering many different types of communication methods and systems. The club meeting is at 7 p.m. every first Tuesday of the month at Kingman Regional Medical Center in the J. Leonard Neal Conference Room by the cafeteria. Contact Bill Smith at 928-303-9857 or Rick Cooper at 928-530-1671. Upcoming events:
Ham Fest / tailgate ham radio swap meet: Starts at 6 a.m. Oct. 15 at 2202 Stockton Hill Road.
Mohave Arms Collectors Association: MACA's meeting is at 6:30 p.m. on the last Thursday of the month. With the theme for July's meeting having been the .38 hand gun cartridge and its many variations, it just seemed right to follow up with the 9mm family of cartridges. The theme for August will be the Eastern European designed 9mm and its variations. Now a naturalized "American Citizen," the 9mm Luger cartridge introduced in 1902 was not well received by the American Public until it was adopted by our military forces in 1985 as our standard handgun cartridge. This act replaced the venerable M.1911 .45 ACP cartridge. Mostly caused by political pressure, some of us still think this was a mistake. However, The American Shooting Fraternity has fallen in love with this versatile cartridge and now many handguns are being chambered for it. There should be a good showing of Lugers, Berettas and other lesser known varieties at our August meeting. Come check us out.
As a footnote, the Mohave Arms Collector's Association is happy to say that our Don Martin's fishing trip drawing took in almost $1,700. Some of this money will go to the National Rifle Association to help in their fight to protect our 2nd Amendment Rights in these perilous times. Doors open at 5 p.m. for buying, selling and swapping (first liar doesn't stand a chance). MACA is a group of firearms enthusiasts who normally meet the last Thursday of the month in the clubhouse of the Mohave Sportsman Association rifle range, located at 3155 N. Oatman Highway. For further information, call 928-681-4476.
Mohave Community Choir meets at 6:30 p.m. on Thursdays at the Church of Jesus Christ of Latter-Day Saints, 3180 Rutherford St. Contact Dori Caruso at 928-565-4651.
Mohave County Genealogical Society: meets the second Wednesday of the month at 1 p.m. in the Mohave Museum of History and Arts, 400 W. Beale St., Kingman. Our presenter last month told us about her grandparents' trip from the tin mines of Cornwall to the mines at Miami-Globe. Her grandfather came over in 1900 after the tin mines played out and her grandmother followed in 1903. There was still Indian activity in the area at that time. He died in 1918, leaving her with small children to raise and provide for. Much of the information was from letters found recently. Our presenter this month will talk about her family in Indiana and West Virginia. We welcome visitors to our meeting no matter what you level of experience. There is no museum fee for attending the meetings.
Route 66 Riders, LTD, is a motorcycle club of local friends from all walks of life who enjoy riding together. We welcome all makes of motorcycles, including trikes. Our monthly business meeting is the second Tuesday of each month at the Golden Corral restaurant at 7 p.m. Come at 6 p.m. to enjoy dinner with the membership. In addition to longer rides, we schedule a ride on the first Saturday of each month, as well as impromptu rides every Sunday afternoon. Our website, www.rt66riders.com, contains information regarding recent events, meetings, calendars, newsletters and a form to contact the board members. You can access our Facebook page from the website.
Snugs and Hugs: We are a charity group. We knit, crochet and quilt. We make afghans, quilts, scarves and hats. We donate them to all the needy groups in the area. We meet once a month on the first Thursday at 10 a.m. at the Spinster, located at 116 N. Fourth St. We are accepting donations of yarn and fabric or batting. New members are welcome. Come and see what we are about. For more information contact Bobbie at 928-753-5999.
Teamster Retirees and Associates: The group meets the first Wednesday of each month at 302 Monroe St. (Moose Lodge) in Kingman. Friendly people, good conversation and food. For more information, call 928-692-1071.
Thursday Party Bridge: The winners of the Aug. 4 games were: first, Coie O'Malley; second, Jerry Lipson; and third, Gladys Smith.
The Watchmakers-Clockmakers: If you are interested in antique watches or clocks as a collector, repair person, or just have an interest, we met the first Tuesday of each month. For more information, call Richard at 928-753-6489.
Wednesday Party Bridge: The winners of the Aug. 3 games were: first, Paul Greening; second, Barry Pope; and third, Barbara Gracin.
Youth Bowling League: Sign-ups will be held at Cerbat Lanes from 11 a.m. – 2 p.m. on Aug. 20 and 27. Bowling starts Sept. 10, 2016. For more information contact 928-692-1818.