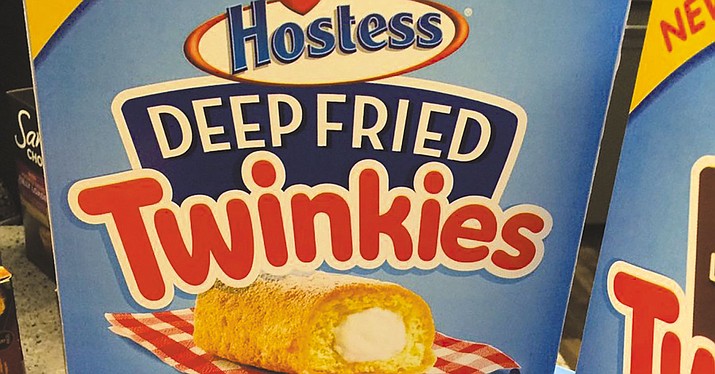 Originally Published: August 14, 2016 6 a.m.
It was kind of refreshing to get through that Deep-Fried Hostess Twinkies story on Page 2B (or not 2B) without some health professional shrieking that one bite would likely result in a massive fatal heart attack, and that two bites would be even worse for you.
What could be worse than a massive fatal heart attack? How about the same massive fatal heart attack while having to listen to that first-year violin student next door – and all her first-year friends – labor through a rendition of "Hey Jude" during the fall recital.
Frightening, isn't it?
I became aware of deep-fried mania a few years back while watching the Oklahoma-Texas football game, which is played every October in Dallas during the Texas State Fair. The announcers, always looking for local color, would without fail refer to a walk they took down the state fair midway right outside the Cotton Bowl. The conversation would always focus on something deep-fried, such as butter or stray cats.
The closest the story in today's Miner got to a lecture came a bit past the midway point, where a food industry analyst noted that Americans are trying to "cut down on higher sugar content" but that "there is still room for indulgence."
I think that means "watch what you eat and maybe once or twice a week you can have a deep-fried Twinkie or a bowl of ice cream."
Just try to limit it to three bites.
•••
Tuesday's Miner featured a column by Dr. Walter Williams. In it, he bemoaned the lack of discipline in schools and how they have gotten progressively worse in any number of ways as new ideas on teaching were implemented.
My own education was witness to this wholesale change in public schools. It happened between my junior and senior year in high school, and the change agent was our new principal.
To summarize, we got away with murder when I was a senior. I don't recall minding at the time.
But the story I come back to in order to illustrate how strict things used to be happened in junior high, probably eighth grade.
My homeroom was having a Coke party. Once a semester, each homeroom had a day where students were marched down to the cafeteria. We could buy Cokes if we wanted (they were a nickel), and then we had to sit at long rows of lunchroom tables. We were allowed to talk quietly amongst ourselves.
On this day another homeroom also had a Coke party. Those students were on the other side of the cafeteria, and mingling would not be tolerated. No idea why, that's just the way it was.
Carl was not fazed by the "no mingling" rule. He ambled over to our side of the cafeteria, leaned over opposite me to put a hand on the table, then started talking to one of our classmates. Then my homeroom teacher told Carl he needed to go back to be with his own classmates.
I'll never forget what Carl said ("Screw you") and I'll never forget what I saw next, which was Big Carl bent sideways while walking as fast as he could toward the office. He was in that awkward position because Mrs. Worley, the phys. ed. teacher half his size, had a firm grip on his left ear and she wasn't going to let go.
Ten minutes later the Coke party was over and we filed silently back to our homeroom classrooms to pick up our books and go home. As we walked by the office we saw Carl. He was on the couch, leaning forward with his hands on his face, contemplating his father's arrival at school.
That was another difference. Back then the school was right. Carl's dad wasn't going to show up to defend his son's bad behavior or threaten to sue.
Times have changed.
More like this story