Photo by Shawn Byrne.

Originally Published: August 14, 2016 5:59 a.m.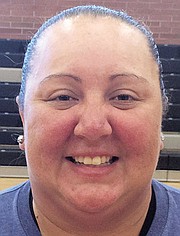 KINGMAN – Despite losing the only varsity coach they've known since the inception of the program, the Lee Williams High School volleyball team will have a familiar face pacing the sideline.
Julia Lasiloo was named by LWHS principal/acting athletic director Gretchen Dorner as the new head coach. Lasiloo has been with the Lady Vols for the past three years as the JV coach for volleyball and basketball, and as an assistant varsity coach for softball.
"Julia has worked well with athletes and the athletics office and demonstrated a desire to coach and a commitment to the program at all levels," Dorner said. "We interviewed Julia, along with other candidates, searching for someone who had the desire to not only grow our program, but to take over where the prior coach left off with an already established team."
Lasiloo replaces Traci Rosenbach, who had to step down due to family considerations. The Lady Vols were 17-16 in two regular seasons with Rosenbach, and they graduated only one senior last year.
Though senior Mya Radler has to go through the process of a new coach, she is familiar with Lasiloo, which should make for a smooth transition.
"I'm excited about it," Radler said. "We're obviously going to miss Rosie, but I'm excited to have Laz as coach. I think we'll fit together just fine."
Radler plays the same position as Lasiloo did in high school, middle hitter, and expects to absorb as much as she can from her new coach.
"There's a lot I can learn, and a lot we all can learn from her," Radler said.
Lasiloo graduated from Kingman High in 2004 and went on to play softball for Paradise Valley Community College. She first assisted Rosenbach at KHS before moving over to Lee Williams. She's interested in coaching in a pay it forward way because of all the coaching and attention she received during her playing career.
"I want to teach young girls what I've been taught throughout the years and give back the time all my coaches gave to me," Lasiloo said. "I want to give that same enjoyment and excitement to the girls. I enjoy sports so much, and I want these girls to feel what I felt when I played in high school."
Lasiloo wants more of what she's experienced this week during tryouts for the upcoming season to be her legacy. Natalie Casson, who graduated KHS in 2013 and is about to begin her senior season at Le Moyne College in Syracuse, N.Y., came into the gym to help Lasiloo and the Lady Vols.
"I was only a first-year assistant coach when I was there with Nat," Lasiloo said. "To have her come by and be a big help, it's humbling that she would come here and help me."
Lasiloo has a few weeks to get her squad and program on the same page. The Lady Vols host Lake Havasu in their season opener on Aug. 30.