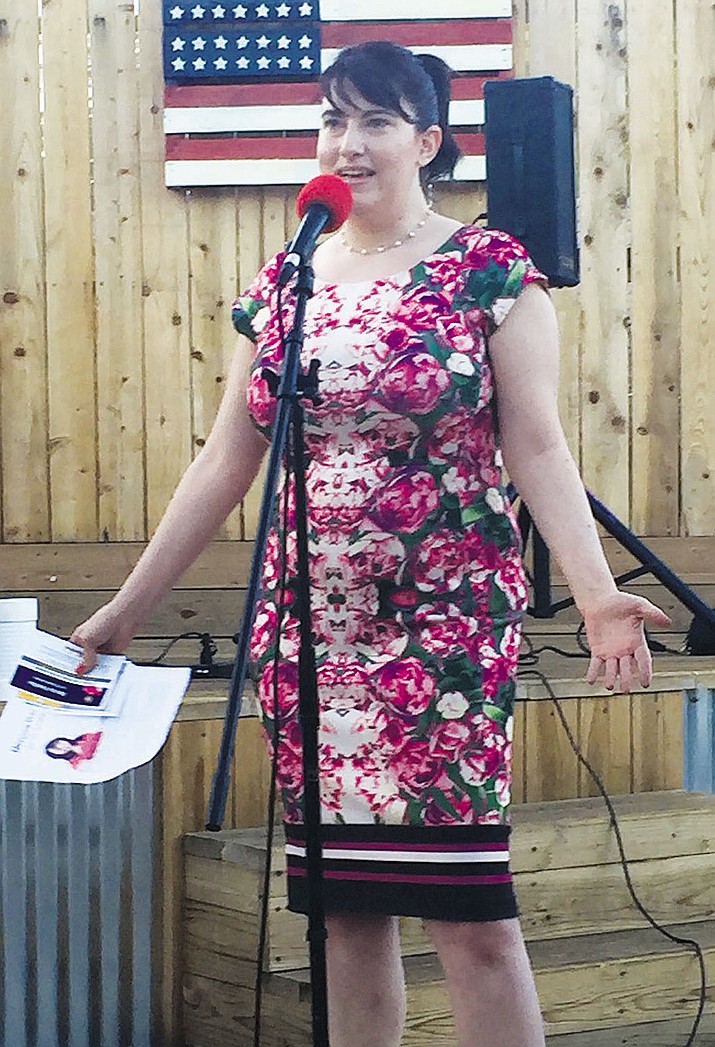 Photo by Bob Leal.
Originally Published: August 14, 2016 5:58 a.m.
KINGMAN – Merissa Hamilton, a Libertarian candidate for the U.S. Senate from Arizona, dropped by the Black Bridge Brewery's backyard patio on Thursday evening for a speech in front of 40 people.
The event began with Jonathan Winder, a Mohave County Libertarian organizer, addressing the crowd.
"You don't really have to say anything more than Donald Trump versus Hillary Clinton to see people noticing that a third party option is completely lacking in the United States and has for some time. And this is exactly what's gotten us into this predicament," said Winder.
He informed people that Gary Johnson and running mate Bill Weld are the Libertarian Party's candidates for president and vice president. He said it was important they achieve a 15 percent threshold in arbitrarily selected polls in order to have a seat in the presidential debates.
People in attendance asked questions about the Libertarian Party, which were answered by Lauren McCarthy, Johnson's field representative, and others who were familiar with the party.
Then Hamilton of Phoenix, who was running late after experiencing traffic, was introduced.
"I'm not a politician," said Hamilton, who added she has a 15-year record of solving complex challenges in the food service and supply chain industries as an executive.
Hamilton explained three major parts of her platform. First, she said she wants to make the Senate constitutional again. She said those in the Senate should be a watchdog over the judicial and executive branches.
"We keep voting in these people who refuse to do their job," Hamilton told the crowd. "Elect people to do their job, and if they don't, stop voting for them."
Someone in the audience asked how she would avoid "the money" if she were to make it into office.
"I won't allow special interests to influence me," said Hamilton. "I'm paying for my own campaign. I am completely self-funding."
The second main part of her platform is her strong support for the Second Amendment.
And thirdly, she is adamant about stopping what she calls "legal state child trafficking."
The number of children in Arizona' foster-care system rose 80 percent from 2003 to 2012, while foster care nationally declined 22 percent during that same period, according to literature she passed out that was attributed to the Wall Street Journal.
Her web site says that Arizona has incentive through the federal government to yank children from their families because they are paid $72,000 annually for each one.
And it's very hard for parents to get their children back as they are denied due process, Hamilton said.
"We have to stop voting for tyranny," said Hamilton. And she said it was important to "get the government out of the way."
In order to vote for Hamilton in the primary, one has to be registered with the Libertarian Party and they must write in her name.