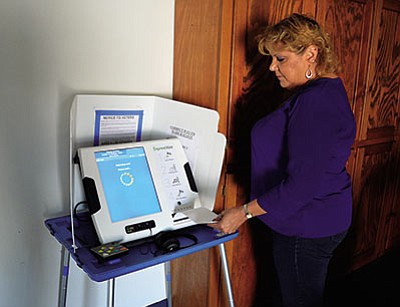 Originally Published: August 14, 2016 5:56 a.m.
KINGMAN – Independent and non-partisan permanent early voters need to contact the Mohave County Recorder's Office if they haven't received their early ballot in the mail yet.
According to Voter Registration Administrative Supervisor Kim Stewart, if voters haven't received their ballot, it might be because they haven't told the voter registration office which one to send.
Voters registered as Independent or Party Not Designated have the option of choosing a Democrat, Republican or Green Party ballot. They may call the voter registration office with their choice, fill out and mail back the 90 day notice that was sent out a few months ago or vote at their nearest early voting site.
Deputy Elections Director Betty Vernon said it's very important the message gets out to Mohave County voters that are registered as Party Not Designated or Independent, and are on the Permanent Early Voting List.
According to Voter Registration, there are thousands of registered permanent early voters who did not respond to their 90 day notice letting Voter Registration know which party ballot to send to them.
When those voters go to their poll sites on Election Day, they will be marked as "Early Voters" and will have to vote a provisional ballot.
"We are trying to reach out to them to let them know that they still have time to call Voter Registration and request their ballot to be mailed to them," Vernon said. "Or to go to an early voting site and cast their ballot so that they do not have to vote a provisional ballot on Election Day."
Voters have until Aug. 19 to choose the mail option, or they can go to an early voting site until Aug. 26.
The early voting polling site in Kingman is the Kathryn Heidenreich Senior Center, 1776 Airway Avenue. For more informaiton, call Voter Registration at 928-753-0767.
More like this story