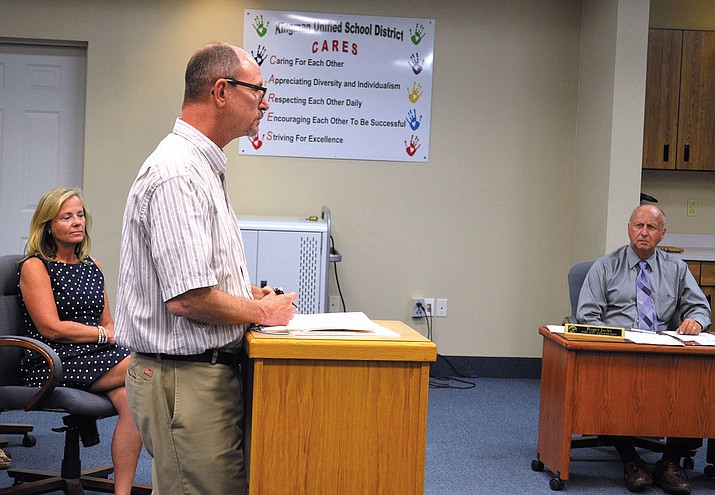 Photo by Aaron Ricca.

Originally Published: August 15, 2016 5:57 a.m.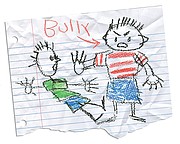 KINGMAN – The first Kingman Unified School District Governing Board meeting of the new school year Tuesday was a quick one.
In roughly a half-hour late Tuesday afternoon, board members decided to grant contracts to technology and anti-bullying companies.
The meeting started with Superintendent Roger Jacks praising a great start to the new school year and noting that schools have adjusted to the new four-day week. However, the district is still short bus drivers, causing some delays along some routes.
"I can't say enough for the schools, staff and parents for tolerating the situation," he said.
The board approved unanimously to declare Spyglass Group, LLC the sole provider of their software package for a Telecom Expense Management program to KUSD, which may include a projected $60,000 in savings.

Spyglass is a third-party company that will renegotiate contracts with Frontier and Sprint to trim prices on phone and internet services. They will assess phone, internet and utility costs to help the district use those services more efficiently. They also help evaluate funding which covers internet connections used throughout the district.
"They're trying to help the school save money," said Robert Pope, KUSD Director of Technology. "In turn, we can take the savings and use it towards more technology and other district needs."
The board also approved Mojo Up, Inc. as the provider of anti-bullying staff training, curriculum, books and assemblies.
Kingman Middle School Principal Don Burton was one of the most vocal supporters of the program at the meeting.
"We're finding our biggest problem is educating parents," he said. "Teachers don't always recognize bullying or don't know what to do because they've never been bullied themselves."
"I encourage them to contact me to use that program," Burton said. "They become aware of what signs to look for and how to deal with them in a positive way."
The Mojo Up program has been used at KMS for the last three years. Burton said Jacks has done a good job supporting that program.
"We would like to see any kids that feed into our school to have gone through a process like that," he said. "If we unify as a district that can beneficial to our staff and community."
The next KUSD Governing Board meeting will be at 5:30 p.m., Sep. 13 at 3033 MacDonald Ave.