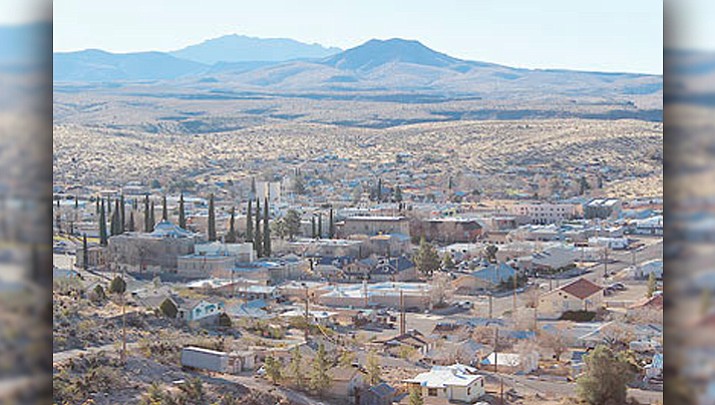 Photo by Bob Leal.
Originally Published: August 18, 2016 6:02 a.m.
KINGMAN – The Downtown Merchants Association requested Tuesday at the City Council meeting that the city aid its pursuit to form a downtown development district.
Representatives from the DMA presented a proposal to council members.
The idea, similar to an entertainment district or a planned maintenance development district, is to unite, develop and strengthen the downtown area while identifying, preserving and enhancing Kingman's history.
"A downtown development district is the foundation necessary to start the work that will aid in designing and developing a plan to redevelop downtown in an orderly and organized manner," the proposal stated.
Councilman Stuart Yocum, who requested the subject be put on the agenda, said the idea is to "help move this town collectively."
"I want to see a lot of great things happen here," said Yocum.
Matt Wanner, a local businessman, said the key to developing the downtown development district was to get everyone to buy-in to the idea. "We don't want to leave anybody out," he said. "What is our vision and how can we make it happen?"
Wanner continued, "It's not a plan. It's an opportunity."
Yocum said the plan would incorporate efforts that are ongoing, such as shopping local, tourism, building up sales tax revenue and city cleanliness.
The idea is to "move us forward, faster and more efficiently," said Yocum.
But not everyone at the meeting thought the idea of a development district would come to fruition.
City Manager John Dougherty told the Council that there are property owners who "are animatedly opposed to this." Dougherty said he thought it may be more effective if the city stays out of the plan in order to keep momentum rolling.
Councilman Kenneth Dean said other cities have achieved success and that "We do have some opportunities here." He said he was happy people came to the meeting "to move Kingman forward."
Cities mentioned by more than one speaker which have been successful with downtown revitalizations included Cottonwood, Flagstaff and Williams.
"Downtown is an amazing asset that is being under-utilized," Jamie Scott Stehly said. She is a candidate for a seat on the Council in the upcoming election.
Stehly called for the current council to embrace the development proposal and "be our leaders." She said it is a win-win for all if downtown thrives. "Please take the lead, give us some direction," she told the Council.
Councilman Mark Abram said it's important to revitalize downtown and that the plan was a step in the right direction.
Although backers of the downtown district development plan asked for the Council to act, Mayor Richard Anderson informed them that because council members had just received the proposal Tuesday, the Council would not be acting on the subject.
Dougherty was tasked by the Council to assign a city staff member to work with the group and the issue will be further studied.