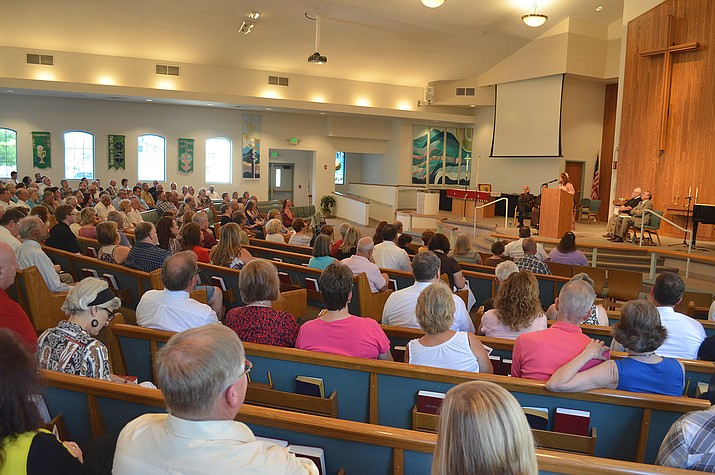 Photo by Aaron Ricca.

Originally Published: August 18, 2016 6 a.m.
KINGMAN – Apparently, we can all get along.
To say the Kingman Unified Pastoral Association's second Ecumenical Forum was successful might be an understatement. Loving Kindness was the prevailing theme as nearly 300 people packed the Grace Lutheran Church Sunday evening.
Pastor Ray Christenson, of Grace Lutheran Church, hosted religious leaders from the Jewish, Protestant, Catholic, Muslim and Latter-day Saints faiths during a public discussion on the enrichment of faiths through loving kindness.
Christenson said his church has 550 parishioners and an average of 300 per weekend.
"This event far exceeded that," he said. Between 13 confirmations in the morning and the peaceful attendance of the night's forum, "It was a perfect service."
The first forum last year attracted just over 100 people. KUPA received a few negative responses in the days after the event, but there were no hostile activities this year. Last year the Kingman Police Department placed two officers at the service as a precaution. So far, none of the churches have received any threatening or hostile phone calls or emails.
The forum focused on the similarities between the Abrahamic religions, not a debate on whose God was the real one. The message of kindness and unity permeated the 90-minute conversation.
"Are there differences in our faiths? Absolutely," Christenson said. "We are not here to discuss those differences, but rather our commonality."
"The sense of God is hope, meaning and love," said Rabbi Mindie Snyder from Temple of the Pines Synagogue in Flagstaff
"The heart of a believer must be full of love and kindness," said Imam Umar Farooq Mahmood, from Masjid-E-Ibrahim Mosque
There were two question and answer sessions.
Snyder was asked when Judaism began ordaining women rabbis.
She answered that in 1972, the first woman rabbi was ordained and since then, women, gays and transgender clergy have been allowed in some of the more liberal communities.

"It's a fairly new concept," she said. "There's still a long way to go. It's an evolutionary thing and were on a path."
One gentleman asked about how non-Christian faiths define their truths, as compared to the Bible's claim in John 14:6, the only way to heaven is through Jesus Christ.
"We all have a flock. All of you are part of different flocks," replied Father Phillip Shaw from Trinity Episcopal Church. "But there is one shepherd. However we get there, we still get there."
Leaders explained that peace is more productive than conflict.
"It would be far more difficult if you were my enemy, than my friend," said Father Leonard Walker, Priest for the Divine Savior Independent Catholic Community
"Many rivers lead to the same ocean," said one woman. "I'm enjoying this."
"We live in a world of differences," said Latter-day Saint Sean Guthrie. "We need to understand them."
Christenson will retire from his pastoral position at Grace Lutheran Church soon. His involvement with KUPA will continue and he'll work with his replacement to continue the forums. One is planned for early 2017, but no official date or theme has been set.
As for expanding religious inclusiveness, Christenson said KUPA has reached out to the Buddhist community and will continue to do so.
Some of the suggestions for future forums include wholeness, peace, grace, mercy and reconciliation. Christenson says the theme will set the tone of the forum.
Despite continuing animosity from some local denominations, KUPA, interfaith forums and the expanding need for inclusiveness are here to stay.
"This will help the community in time to further understand and grow in our spiritual understanding," Christenson said.