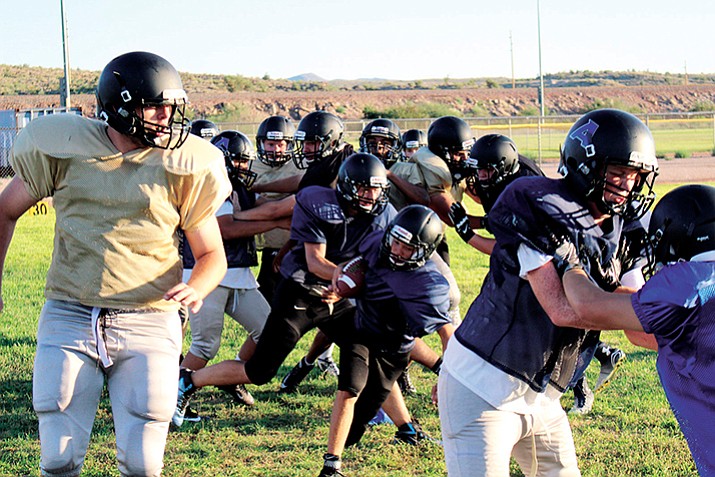 Photo by Shawn Byrne.

Originally Published: August 18, 2016 6:01 a.m.
KINGMAN – Playing against some of the big boys in Division IV a year ago, the Kingman Academy Tigers had a hard time stopping the run. That resulted in surrendering 370 points at a 37 per game clip, and if the Tigers are going to find success this season after going 1-9, they're not going to get away with that again.
And it's the defensive line that will lead the way.
Academy has to replace the 88 tackles made by All-City tackle Matt Timmerman. The first up to do that should be junior Kannon Butler (6-3, 207). Butler had 52 as a sophomore last year and is entering his third varsity season.
"Kannon creates tremendous havoc for an offensive line," said KAHS coach Dan Stroup. "He does things with power, strength and can do things with leverage from his height."
When Butler was freshman, he was a big kid. He didn't think then there would be much difference to football from then until now.
"I wasn't a small freshman. You get to know the game, your experience, and the team got a lot stronger," Butler said. "We've played three years varsity football. We've got more weight and strength with a lot more buy in. There's a big difference."
Senior Khalel El-awik (6-0, 242) is one of the defensive ends. He played for the Tigers two years ago when they made the D-V playoffs, but sat out last year.
"He's cut a lot of weight and is a lot stronger," Stroup said. "He can pass rush and get out on the sweeps. We're lucky to have him back."
It was like riding a bicycle returning to the football field after a year's absence for El-awik.
"I didn't feel behind because everyone has been helpful on the field," El-awik said. "If I don't know something, Coach or Kannon will point it out. It's just a process of relearning it."
Sonny Munoz (5-8, 252) is expected to be the nose guard. Dallyn Chapman (5-7, 175), Joey Martin (5-8, 161), and Mitchell Oldham (5-9, 141) are fighting for the fourth spot on the defensive line.
Chapman has the speed to catch people from behind, Oldham has the hands to fight off an offensive lineman, and Martin does everything well and is one of the best players in the weight room.
Settling that fourth spot is one of the many questions that Stroup hopes to have answered in Friday's scrimmage at Laughlin at 7 p.m.
"We're going to find out who the hitters are," the coach said. "There will be two surprises. One, a kid won't be what we thought he was going to be for us, and two, a kid who we didn't think was going to be of much help can actually play."
Kingman Academy opens the regular season against Bourgade Catholic at 2:30 pm. Aug. 26 in Flagstaff.